We here at BWD have been racking up some serious miles attending birding festivals lately: In August we went to Southeast Arizona, last weekend we visited Cape May, New Jersey, and next weekend we're headed to Hawai'i… and you can come, too—for FREE!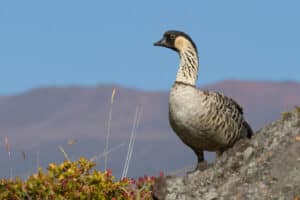 All of this travel is, of course, being done virtually, but it is truly the next best thing to being there. And obviously, it's quite affordable, comfortable, and safe since you never have to leave the comfort of your own home!
If you haven't attended a virtual festival yet, the Virtual Hawai'i Island Festival of Birds is the perfect one to get your feet wet with. Registration is free, and festival organizers have put together a fantastic slate of events and activities, including:
Great presentations: Daily presentations from bird experts, conservation and cultural organizations, and more. They will share exciting conservation projects, species information, even art and hula lessons! You won't want to miss BWD's very own Wendy Clark, president and publisher, and Kelly Ball, sales director, on October 15 for a presentation on "Choosing the Best Binocular for YOU!"
Fun prizes: Participate each day to enter to win Hawai'i bird stickers, magnets, pins, plush, patches, books, themed care packages, and more!
Merchandise: The HIFB Virtual 2020 design styles the iconic Iiwi in pixel form! Sales support the festival as well as the medical treatment and rehabilitation of native birds at the Hawai'i Wildlife Center

.

A virtual marketplace: Artists, crafters, and graphic designers that celebrate the native birds of Hawai'i, as well as top-notch birding gear. Festival registrants receive special discounts from select vendors.
We are looking forward to celebrating the native birds of Hawaii Island and the wanderers and migrants of Papahānaumokuākea next weekend, October 15–19, and we hope to "see" you there!

Looking to Subscribe?
Get 6 print issues of the magazine delivered to your door
& free digital access
One Year Print Subscription: $26
(to US or Canada, includes digital access)
One Year Digital-only Subscription: $15
Two Year Print Subscription: $48
(to US or Canada, includes digital access)