Depending upon your physique, a conventional neck strap toting a full-sized binocular makes for some severe fatigue after a long session of birding. And while a crisscross harness's design redistributes the weight more evenly across the back and shoulders, I've never found them to be the most comfortable. On my first excursion to Magee Marsh in northwestern Ohio, as I neared the end of the boardwalk after spending three or four hours ogling warblers and other migrants high in the treetops, my scapulae would scream every time I lifted my bins to my eyes and tilted my harnessed torso. It became so painful that, if I'd already seen a species earlier, I wouldn't even try to look if my companions pointed out another Baltimore oriole or blue-gray gnatcatcher. Maybe that makes me a lousy birder. I just wanted to be able to recover enough to bird another day.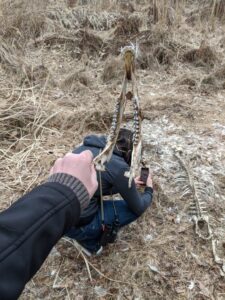 Imagine my excitement when Redstart Birding began carrying an elastic cord binocular harness from Rick Young Outdoors. I'd heard of other birders sporting bino slings and was intrigued, but hadn't yet sought one for myself. As it turns out, this device is a gamechanger.
Although Rick Young Outdoors promotes five different positions in which to wear its Ultra-Light Bino Harness (neck strap, crisscross harness, bandolier, around one arm while the binocular hangs from the opposite side, modified crisscross that's wrapped to hold your bins snug against your chest), I've only felt compelled to wear it bandolier style.
The tubular, stretchy cords sit comfortably on my left shoulder as my binocular hangs within easy reach at my torso's right side. This relieves my spine, chest, and ribcage from the pressure of supporting my optics both during active use and while carrying them between bird sightings. It saved my scapulae this spring when I had to settle for warbler watching in the local cemetery, Magee's boardwalk having been closed in light of the COVID-19 pandemic. If one of my socially distant compatriots spotted a northern parula or Cape May warbler, I could reach to my side and pull my binocular over and up in one smooth motion, keeping the work distributed evenly between my neck, shoulders, and back. I came away from the excursion with that special feeling of invigoration after a good field session, without the excruciating harness-induced pain I was used to experiencing alongside pure birding joy.
Speaking of good feelings brought about by great birding gear, I must say that the RYO Ultra-Light Bino Harness makes storage a breeze. Whereas my crisscross harnesses would always wind up in a twisty tangle no matter how mindfully I tried to tuck them into my binocular case, the shoestring-style cord of the RYO option easily wraps between the barrels, keeping the mess at bay and maintaining the bins' immediate usability. You don't have to remove the harness when you're done birding for the day. If you see anything interesting outside your window, the wrapped elastic won't hinder your ability to pick up, adjust, and focus your binocular. Think of all the time saved you would have spent fighting with straps on a conventional harness!
One point I should highlight to close out my glowing review: I'm a small-chested woman who can shimmy through most days in an unpadded bralette. And while I can style both my RYO harness and the canvas strap of my crossbody purse at the same time, I really cannot speak to the experience of anyone else's body type. However, because this strap is so versatile, adjusts with a simple push of a button and pull of the cords, and boasts a variety of possibilities for wear, I'm confident that most birders would still find it handy.