I'll always enjoy the coziness of wintertime, but nothing rivals the anticipation of emerging bulbs and plants awakening in the flower beds in my yard come springtime. Last spring, when the pandemic effectively eliminated all of my 2020 travel, I turned to yardwork and improving the "birdiness" of my plants and flowers to bolster my mental well-being. I undertook my primary project in June 2020, when I eliminated a section of lawn in favor of planting more flowers and plants, and added more native plants to the mix.
One lofty goal of mine is to treat all of my flower beds first and foremost as mini-ecosystems. Of course, there is so much to learn about gardening with a mind toward bird- and insect-friendliness, and only so much time I am able to devote to it. So, when I received word of a March 6 volunteer spring cutback opportunity at the nearly complete Oudolf Garden on Belle Isle, Michigan, I was IN! After all, a visit to landscape designer Piet Oudolf's High Line public garden during a trip to New York City in 2014 showed me how a former elevated rail line became an urban haven for both people and wildlife. Certainly, I could approach tending my own flower beds with the same goal.
Never mind a seven-hour round-trip drive from here to Detroit—my thinking was, in one day I'd receive a proper crash-course from expert gardeners in waking my own flower beds for the spring. I registered without hesitation.
Volunteer turnout was amazing; we finished walking on the beds, cutting back spent stems, followed by going over each bed with mulching mowers and then sweeping debris from the pathway—all in under two hours. And boy, was it wonderful to bask in sunshine and a clear blue sky.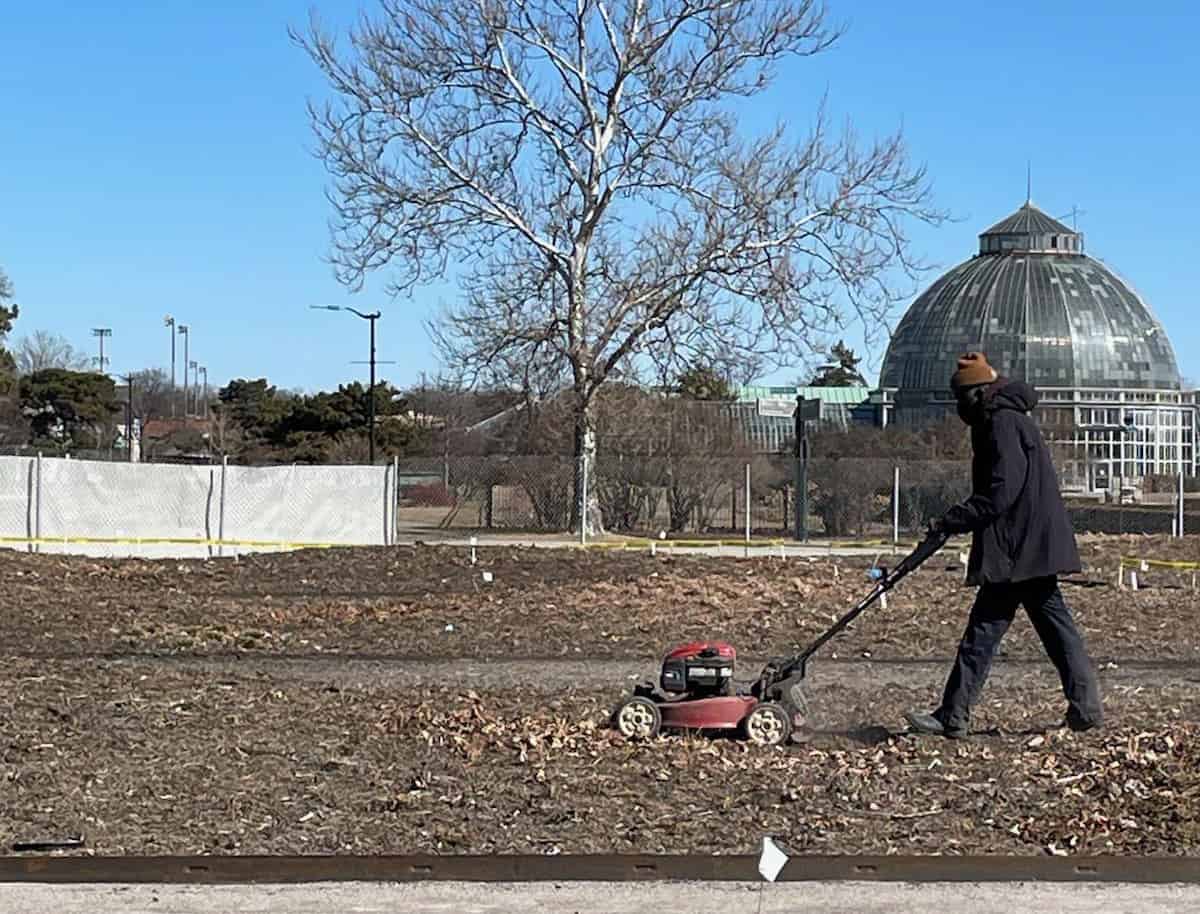 Temperatures between late February and early March in my hometown of Columbus, Ohio, hovered around 50°. Although Detroit and Columbus are located in the same USDA plant hardiness zone, it's typically a few degrees warmer here, on average. One of the volunteers at Belle Isle had explained to me that walking on soggy garden soil during springtime damages soil structure. The weekend following the Oudolf Garden gig, I saw rain forecast in the near future, and I had a free Sunday. Taking advantage of the warm spell and winter-hardened soil, I cut back stems and cleared away leaf litter from the majority of my flower beds.
I found it curious that some seasoned gardeners in my neighborhood, however, hadn't yet tidied up their flower beds. Had I jumped the proverbial gun? After all, I'd monitored the temperatures and I'd noticed increased insect activity. Surely I had allowed overwintering pollinators that depend on leaf litter for survival enough time to emerge from their torpor and move along. Besides, I was anxious to see which of my 2020 plantings found themselves back at it again in 2021.
I surveyed a few neighbors about their philosophies of optimally timing spring flower bed cleanup. One has yet to begin, and another is following that person's lead. Just yesterday, I spoke with a friend and neighbor who explained that she will carefully clear some areas, but instead of bagging leaves, she moves them to a different part of the yard. This ensures any insect eggs will likely have a chance to emerge, while still allowing for a tidier flower bed.
Yet another person, one of my Belle Isle friends who had awakened the flower beds in her Michigan location, explained it this way: "For certain perennials with hollow stems, we leave them up about 2 feet in case there are bees and others overwintering inside. After a couple of 50+ degree days, those guys will emerge and the stems can be tidied up." She also pointed out that considerations for cutting back a public garden like Belle Isle's—garden aesthetics, plant and soil health, and showing off spring bulbs, to name a few—mean it's important to cutback in late winter.
So, I've learned quite a bit, and I will probably do some things differently next spring. With all of the variables of gardening, such as what's been planted, the gardener's commitment level, and even microclimates within one's property, I'm leaning toward following my gut as to when I cut back and awaken my yard come 2022—and using 2021's lessons when it comes to the how. What's truly rewarding is seeing the cumulative efforts from my 2020 activity and knowing they will pay dividends for years to come.