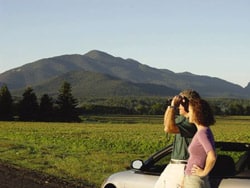 The Adirondack Park of New York state is a bird-watching haven. All birds that migrate to the Adirondack region for the summer arrive by June. More than 100 bird species can be found nesting in the region, including the spruce grouse and Bicknell's thrush, and birding enthusiasts have been flocking to the area in increasing numbers each spring.
The area has support from Audubon New York, more festivals, and the grand opening of a new birding exhibit at the Wild Center/Natural History Museum of the Adirondacks. Many organizations have put together weekends with guided outings, workshops, and lectures to help facilitate wildlife viewing and education.
New York's Adirondack Park is the largest publicly protected area in the contiguous United States. It is larger than Yellowstone, Everglades, Glacier, and Grand Canyon national parks combined.
Hamilton County is the third largest in land size and the least populated county in New York State. The county is entirely within the Adirondack State Park, and more than 60 percent of the land area is either wilderness or wild forest. There is not a single traffic light in the entire county. The county's million acres of forest, 1,500 miles of rivers and streams, and more than 56,000 acres of lakes and ponds provide unlimited birding and wildlife watching opportunities.
For the bird watcher, the Adirondacks offer some of the southernmost, and most accessible, boreal bird habitat in the United States. In addition, the region is home to dozens of species that rely on the Great Northern Forest.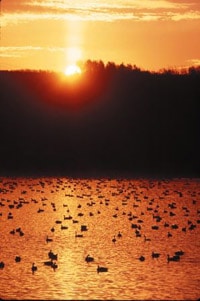 The birding festivals include:
Great Camp Sagamore hosts an Elderhostel event, Boreal Birds of the Adirondacks. The program includes lodging, meals, lectures and field trips.
The Great Adirondack Birding Celebration is held at the Adirondack Park Agency Visitor Interpretive Center (VIC) in Paul Smiths. The weekend features birding trips, lectures, workshops and the popular Teddy Roosevelt Birding Challenge.
The Adirondack Birding Festival in Hamilton County is cosponsored by Audubon New York. The first weekend focuses on the southern portion of the county and the second will feature the northern portion. The festival includes seminars and outings.
The Wings Over the Adirondacks exhibit, a first in the Northeastern United States, opened on July 4, 2007, at the Wild Center/Natural History Museum of the Adirondacks in Tupper Lake, New York. The centerpiece for this exhibit was a series of outdoor, state-of-the-art, interconnected "tree houses" linked by hanging bridges and surrounded by enhanced habitat.
The exhibit included a 50-foot-long covered bridge called Feeder Alley that was surrounded by feeding and nesting stations. The new Bird Skywalk and Skytowers will give bird watchers a vantage point for exploring the surrounding Adirondack bird country.