Two things have carried me during this difficult past year: my people and birds. And not much makes my heart happier than when I get to share birds with my people. So you can imagine my delight when a couple of my closest childhood girlfriends who are newer to birding wanted to plan a getaway birding weekend to break up the long winter. YES PLEASE!
And I knew just the place. I have a favorite cabin down in Hocking Hills, a region in the southeast corner of Ohio where the rolling foothills of Appalachia begin and an abundance of trees and caverns and lakes and streams make it feel like a different world from the rest of our rather flat, farmland-dominated state.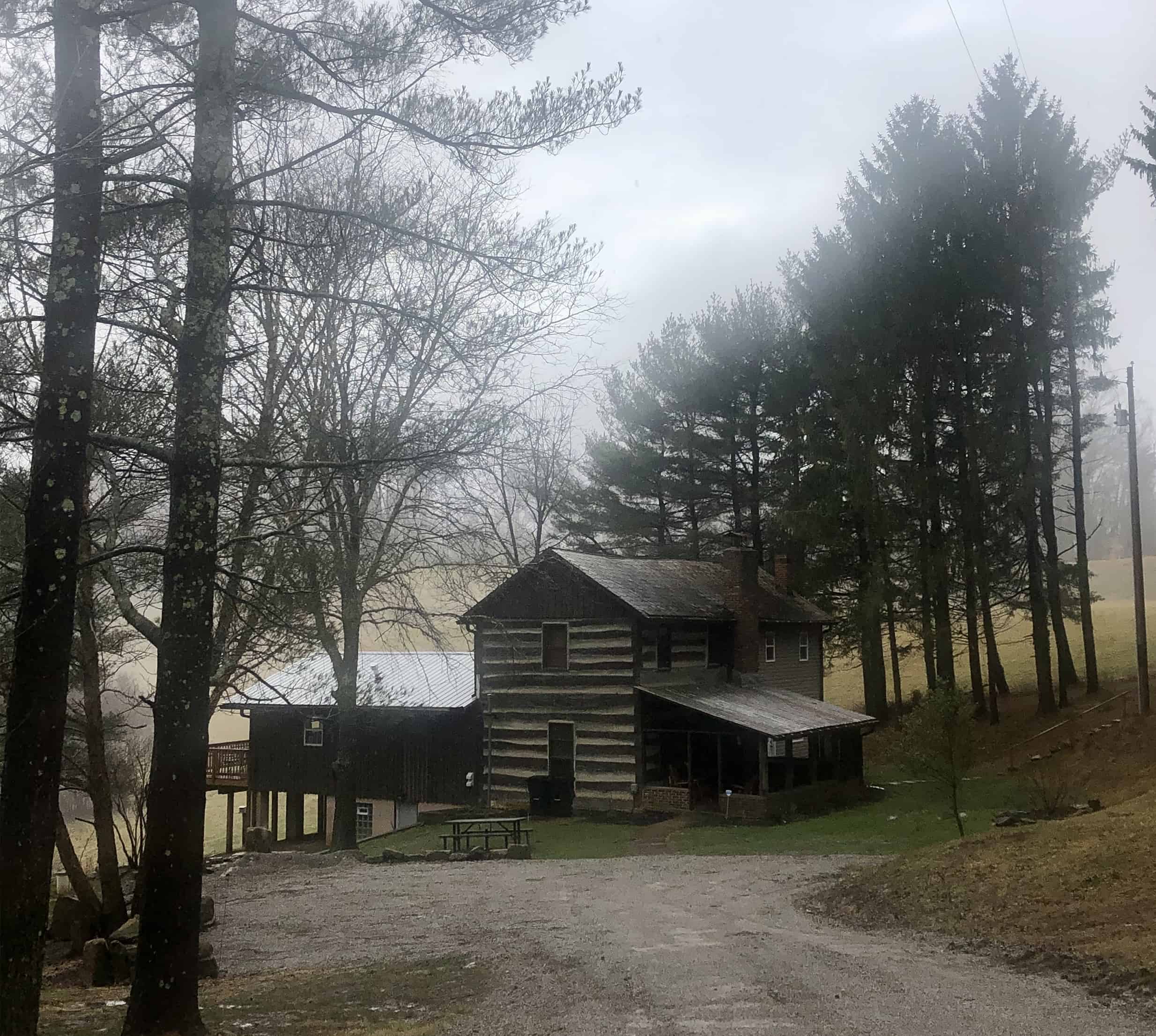 Settlers' Retreat is a 200-year-old log cabin, updated in all the right ways while retaining all the charm of the original structure, with exposed wood beams and brick throughout. In the fully modern kitchen, a wall of windows offers a panoramic view of the ten-acre property, which encompasses a ridge and valley that provide natural privacy and a true sense of getting away from it all.
The kitchen island was our home base, holding our valuables for the weekend—snacks, choice beverages, and binoculars. We spent a good bit of time gathered there while we caught up and kept watch out the window for whatever might fly into view.
At this time of year (late February), the variety of birds was limited to the usual late-winter suspects—juncos, cardinals, a song sparrow, a very loudly drumming hairy woodpecker, a very raucous murder of crows—but we watched and listened and appreciated them all. As we like to say at Bird Watcher's Digest, birding is better with friends, and I will take sitting around watching a European starling with some of my oldest and dearest friends in a remote cabin over pretty much any other bird alone at home.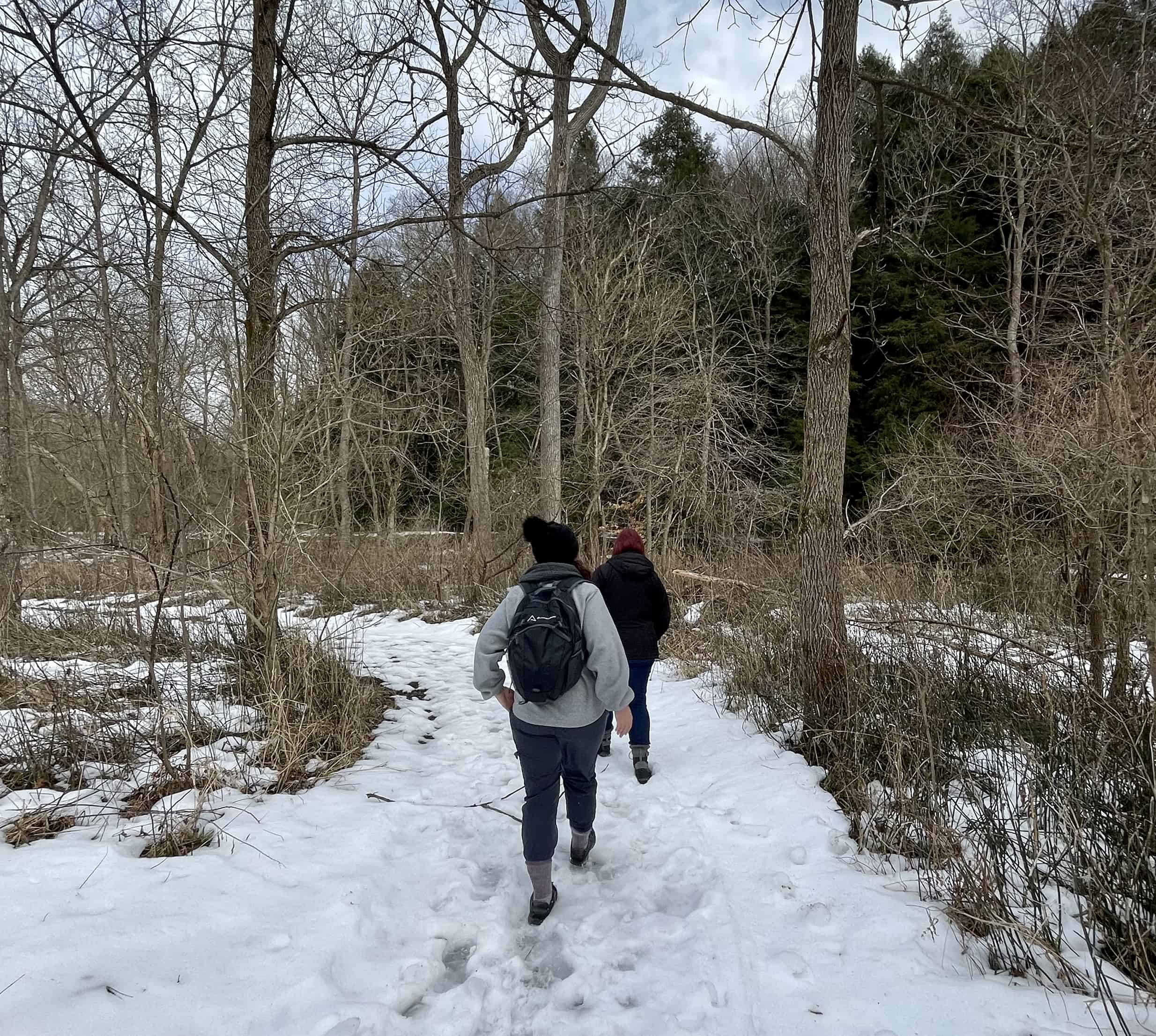 While we easily could have lounged around the comfy cabin all weekend, the hills beckoned us, and we headed out to explore some trails. All the main parks and attractions of Hocking Hills are conveniently within twenty minutes of Settlers' Retreat, as are the nearby towns of Lancaster and Logan, where we ventured to sample some local fare for our evening meals. (We highly recommend Ale House 1890 and Millstone Southern Smoked Barbeque!)
We worked up a good appetite on the trails both days, exploring a few miles of Clear Creek Metro Park on the first day and then hiking both the rim and gorge trails at Conkles Hollow State Nature Preserve the next. While neither location was extremely birdy (though we did enjoy some of our first turkey vultures of the year), we had an abundance of nature at hand to keep us occupied and in awe and wonder: a mysterious trail of feathers, bobcat scat, funky fungi, frozen waterfalls, emerging skunk cabbage, the ornate finials of horsetail, beaver lodges, a turkey that met its untimely demise, twisty and thorny trees, and the coolest fern you ever did see.
Back at the cabin after all that fresh air and miles logged, our bellies full from our tasty takeout, the birds roosting for the night, there was only one thing to do: Fire up the hot tub.
I've done many a girls weekends with these ladies, but this was our first with a hot tub, and we're pretty sure we'll never not get one again. We soaked and laughed our cares away for more hours than we will publicly admit.
And we have a lot of cares between us. We are mothers of children ranging in age from 2 to 18, we are daughters of parents who sometimes feel like additional children (the "Sandwich Generation" is a real thing!), and we're navigating some tricky major life events in the middle of a global pandemic. I feel pretty damn lucky to have women like them in my world—women who have known me most of my life, who love me hard through thick and thin, who find peace and comfort in the natural world. The fact that they think the silly bird memes I send them are funny is just icing on the cake.
Even though our birding weekend ultimately wasn't very birdy, it was just what we needed. And now we have a new spot to retreat to when we need to get away but can't go too far away. We are already looking forward to returning on warmer, birdier days and watching the sunset from the porch overlooking the valley, taking some long walks exploring the property, and unwinding by the fire pit. And, of course, soaking our cares away in the hot tub.