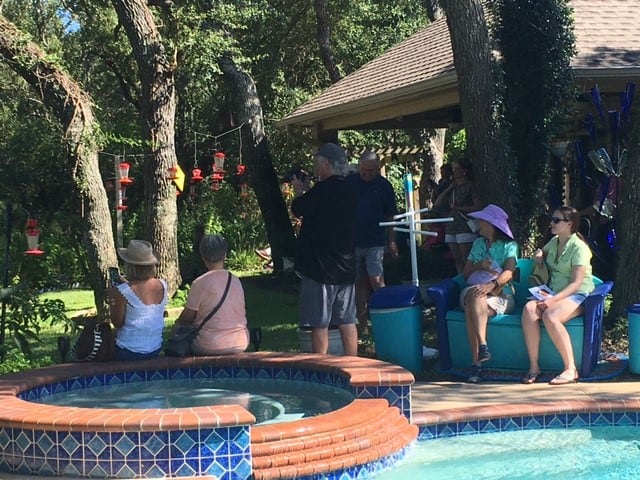 Pardon the grammar borrowed from an old advertising jingle: Nobody doesn't like hummingbirds! Two small towns on the Gulf Coast of Texas—a launchpad for the tiny birds—celebrate their migration every September. I was privileged to serve as a bird guide and presenter at the 33rd annual Rockport-Fulton HummerBird Celebration recently, and what a treat it was!
Hummingbirds descend upon the towns and stay for a while to fuel up as they prepare to launch their 24-hour-long flight across the Gulf of Mexico, and several thousand hummingbird lovers meet them there to send them off. Many—perhaps the majority—of those who attend the festival don't consider themselves birders, but rather "just" fans of hummingbirds.
The event offered two field trips by bus to nearby birding hotspots, but also included an extensive array of speakers, including talks on the natural history of hummingbirds, hummingbirds of the world, and hummingbird photography. There were other topics, too, and I offered an introduction to birding by ear. A vendor event—the Hummingbird Mall—features local arts and crafts; every possible brand, model, and design of hummingbird feeders; native plants; and general bird art.
But the heart and soul of the festival are the hummingbird home tours. A dozen or more private residents invite festivalgoers to tour their hummingbird-heavy backyards. One lovely home I visited (adjacent to the country club) was lavishly landscaped with nectar-producing plants surrounding a pool—plus 46(!) busy nectar feeders! The homeowner had a feeder-washing-and-refilling station the size of a small kitchen. She said she used more than 25 pounds of sugar in the previous two weeks to keep her feeders full. She keeps meticulous notes of which feeders are most popular, which empty the fastest, and which, if any, are underused.
There were lots of people in that yard, but uncountable dozens of hummingbirds were zipping around oblivious, driving one another from feeders, vying in the air, sipping nectar from flowers, eyeing those with red clothing, doing what hummingbirds do—but times 100! It was a spectacle to behold—a party for hummingbirds and humans.
Another lovely home I visited had a backyard dominated by a majestic live oak tree. From its branches, on shepherd hooks throughout the spacious, parklike yard, and on spans of clothesline, roughly 20 nectar feeders similarly fueled dozens of hummingbirds. How many thousands of hummingbirds were in this area is hard to convey or even conceive!
Also on the tour was a hummingbird-heavy yard where a licensed bird-bander was demonstrating trapping, weighing, measuring, and tagging the tiny birds. Before releasing, she lets visitors feel their fluttering heartbeat. What a thrill—to touch a hummingbird! After about 10 minutes of captivity, she opened her hand and off it flew, ready to start off on the perilous journey it makes twice each year—if it is lucky.
Another fun option I signed up for was a tour on the MV Skimmer: Birding by boat to the shore of Aransas National Wildlife Refuge, which has one of the longest bird-species lists in North America. We spotted American oystercatchers, black-necked stilts, lots of species of herons and egrets, sandpipers galore. Capt. Tommy has a good eye, and knows birds—it was two hours enjoyably spent.
The festival was efficiently run and COVID-conscious, joyful, and inexpensive. There is no registration fee. Self-guided, the hummingbird homes tours are free, or $15 to visit three sites via air-conditioned bus with a guide. Presentations are nominally priced, as are field trips via bus and boat tours.
I admit, it is hot as blazes along the Gulf Coast of Texas in mid-September, but this annual spectacle of nature—so many hummingbirds electrifying one small area—is worth celebrating.