One of the great privileges of my position as advertising sales director is traveling to events to represent Bird Watcher's Digest. Not only do I get to reconnect with friends and meet industry partners, I'm also able to meet our wonderful subscribers and longtime fans of the magazine.
I will never tire of hearing folks share stories about the Thompsons; guesstimate how long they've subscribed to BWD (sometimes it's 30+ years!); and heap praise upon our awesome editorial and design staff for continuously churning out good birding stories well told. Working behind a computer screen most days, I'm reminded during in-person events how birding truly connects those of us who seek it. (If somebody knows of a hack to make my spreadsheets capable of sharing this energy, by all means get in touch!)
Also? Bird festivals always coincide with peak birding at their respective destinations. Because I only came into birding in my mid-30s, I am typically able to see life birds at nearly every event I attend. What's not to love?!
Indiana Dunes Birding Festival
After a yearlong pause that felt much longer, we resumed in-person bird festival attendance in May 2021 at the Indiana Dunes Birding Festival. Neither Publisher Wendy Clark nor I had attended this event previously—and we were so glad that we supported it as an event sponsor!
We learned that the attendance was the highest it's ever been, no doubt owing to the fantastic job that Brad Bumgardner and his staff did planning and executing the event. Among the highlights for me: the bird call contest; the sand dunes (of course!); handcrafted nesting boxes attendees could take home with them; birding along Lake Michigan's southern shore; and, most importantly, seeing folks live and in person!
As for birding moments, a few standouts were observing a massive number of fluttering pine siskins foraging in trees, just across the road from the 1933 Chicago World's Fair Century of Progress Homes (seriously, go read about it). And, because I'm a goatsucker sucker, I would be remiss if I did not mention the evening I heard (!!) and saw (!!!!) eastern whip-poor-will near the sand dunes at dusk, alongside Brad, Diego Calderón, Juan Diego Vargas, and Marc and Eliana Kramer.
Southeast Arizona Birding Festival
Our company has long been a presenting sponsor of Southeast Arizona Birding Festival, and we were psyched to be able to do so again this past August. Traveling to this event was notable also in that it was the first time I'd flown since January 2020.
Flying and wearing a mask? It's not as bad as I expected it would be. Setting up the booth by myself? About as bad as I expected it would be BUT I learned some shortcuts that have already made setup/teardown much easier at subsequent events. I participated as the sole representative for our company, and Luke Safford and Tucson Audubon's volunteer brigade made me feel right at home.
Once again, I was delighted to connect with all of our friends and advertising partners, and it was especially gratifying to connect with western-based BWD subscribers! I'd traveled a few different times to Tucson in my past, but never as a birder—and never during monsoon season! In fact, one planned evening outing at Saguaro National Park to search for, among other things, gila monster, was abruptly cut short on account of approaching rain.
Did I REALLY want to see a gila monster? Of course. But, did I want to get stranded in the desert overnight because of flash flooding? Most definitely not. Instead, I consoled myself with the vast number of life birds I ticked off my list, including Rivoli's hummingbird; northern beardless tyrannulet (also: my new alias); Arizona woodpecker; vermillion flycatcher; and a heard-but-not-seen elegant trogon. I recorded most of these birds in just two spots: Patagonia Lake State Park and Madera Canyon. That's how birdy southeast Arizona is, people!
Rio Grande Valley Birding Festival
I had to wait only a few short months before I was off to Texas in November for the Rio Grande Valley Birding Festival. RGVBF is another festival that our magazine has sponsored for several years, and once again, I participated as the sole staff representative. It was an amazing experience!
First of all: I handled booth setup and breakdown semi-competently. And not to be repetitive about it, but all the attendees who went out of their way to tell me how much they love the magazine and to keep up the great work? Well, they set my spirit soaring. When you've ridden the waves of working for a small business throughout COVID (in advertising sales, no less!), when you've had to weather the requisite setbacks yet maintain positivity and professionalism, lemme tell ya: kind words go a very long way!
As this festival was the biggest in terms of vendor and attendee numbers, I also was able to meet or reconnect with even more friends throughout the industry. How cool is that? And, I cannot overemphasize that I had SO MANY LIFE BIRDS. To wit: plain chachalaca; great kiskadee; common pauraque (which I am also now able to pronounce); green AND ringed kingfishers!; aplomado falcon (freaking sweet!); and a crazy-huge roosting flock of parrots near Brownsville, Texas, that may or may not have been Mexican red-headed amazons (with apologies to my pro guide birder friends who most definitely ID'd them but in my excitement, I didn't listen very well!).
If you are a birder who has done the festival circuit, then you likely can appreciate my enthusiasm for these events. And if you are a birder who hasn't attended festivals BUT you are curious to do so, there are all sorts of options! In January, we are sponsoring For the Love of Birds Festival, which is entirely virtual, affordable, and features an AMAZING speaker lineup, amongst them our illustrious contributor, Julie Zickefoose!
In February, there's another great option in the hybrid (meaning in-person and virtual attendance options) event, Birds on the Niagara. And that same month, I will be attending Space Coast Birding and Wildlife Festival (also a hybrid event) with my awesome colleagues Wendy and assistant editor Jessica Vaughan, as well as San Diego Bird Festival.
Hope to see you out there with the birds!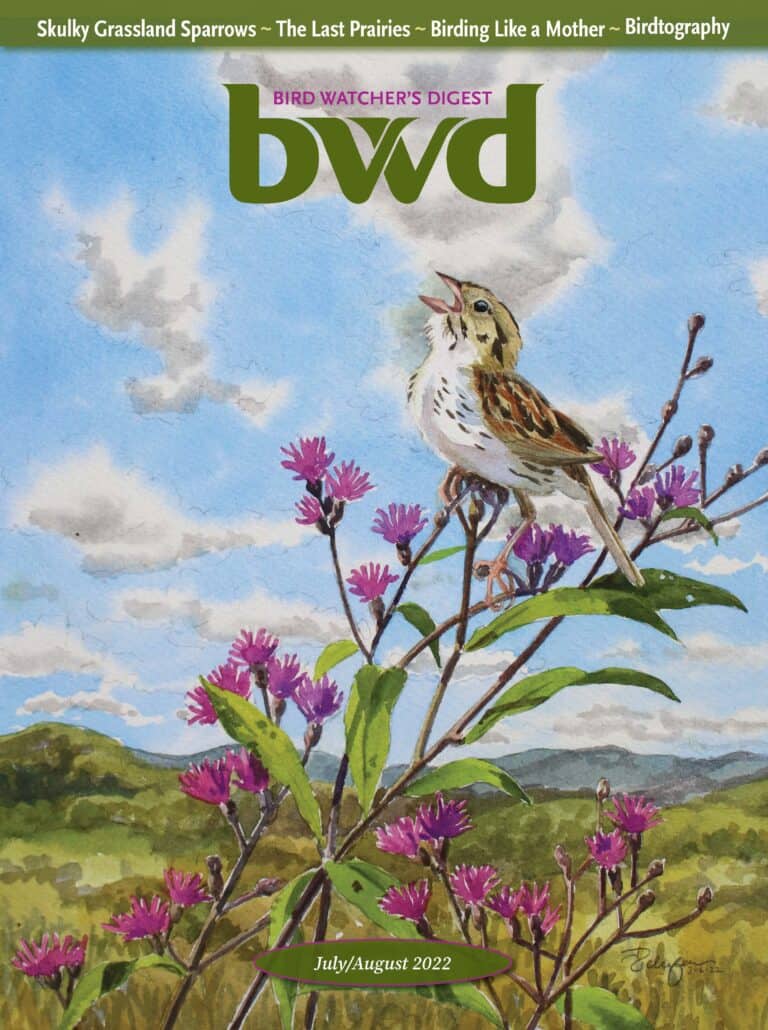 Looking to Subscribe?
Get 6 print issues of the magazine delivered to your door & free digital access
---
One Year Print Subscription: $26
(to US or Canada, includes digital access)
One Year Digital-only Subscription: $15