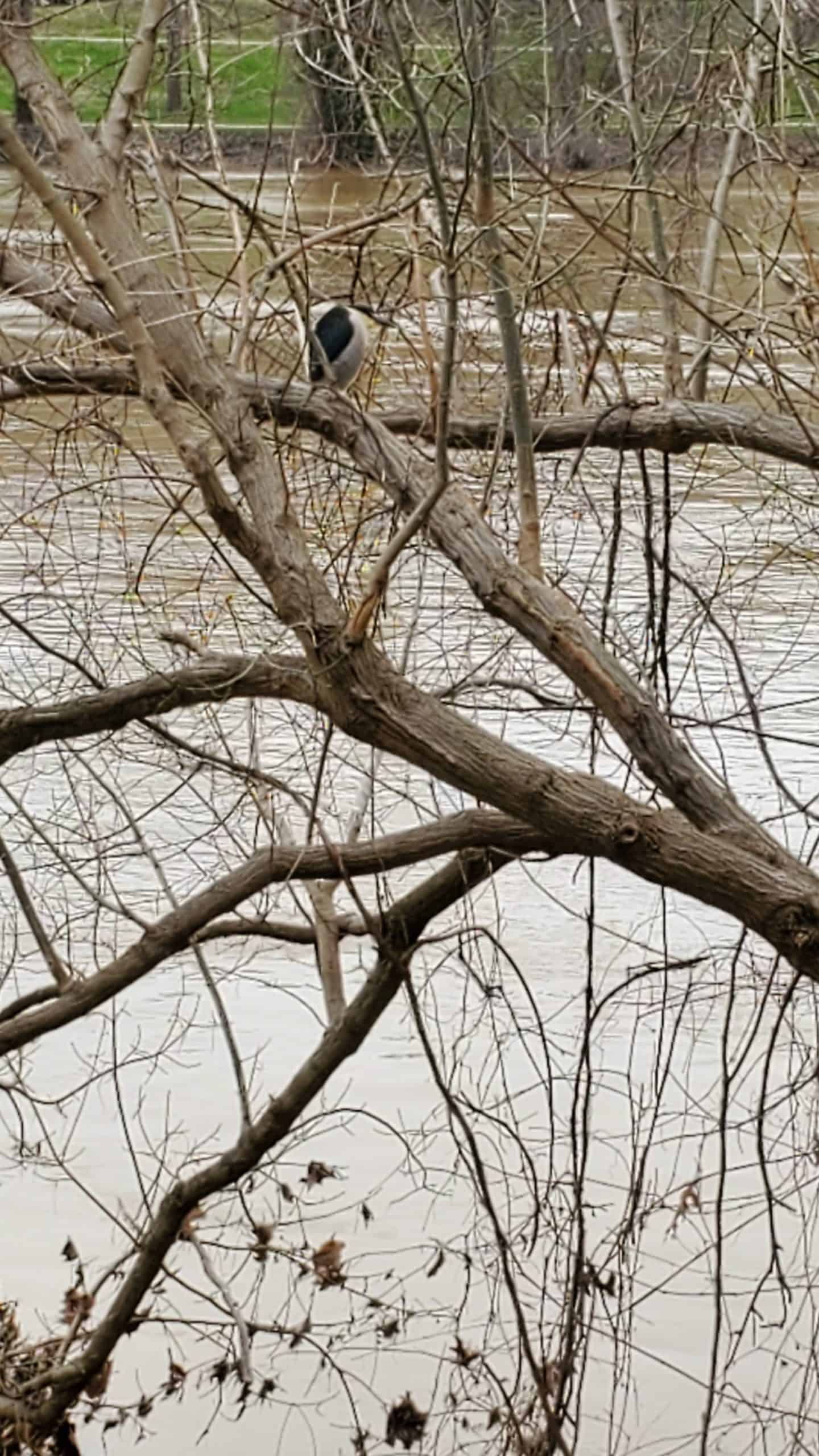 I thought it was a bird at first.
As I continued walking along the bike path along the Muskingum River in Marietta, Ohio, I convinced myself that the rounded bowling pin shape perched in a tree on the bank was just a piece of plastic trash. The dark bluish-black portion I'd first believed was a bird's back was perhaps only the inside of some discarded circular thing with a whitish exterior. A toddler's training potty came to mind.
A few feet farther and I reverted to the bird idea. It could be a merlin, I supposed. A wisp of excitement stirred.
A horrible confession from someone working at a bird-watching magazine: I rarely bring my binocular on a casual stroll. I wind up hating this personal failing at least once or twice every time I take a walk, but I really felt it on March 22, 2020. There was a fistful of hours left before the state would shut down non-essential businesses. Outside exercise would be encouraged, but not necessarily smiled upon. I decided to slip in one last walk in case Governor DeWine decreed that all outdoor excursions must cease in the interest of public safety.
To make matters worse, the first-in-a-very-long-time eye exam I had scheduled for the previous week was canceled for the crime of being a routine appointment and therefore unnecessarily unsafe. But my prescription is at least five years old. My vision isn't what it used to be, especially with almost-expired lenses already worn past that prescribed 30-day window. Seeing something interesting in a tree 30 feet away with my nearly naked eyes on a damp afternoon in gray light was a dismal prospect. Should have brought my bins. Fail, fail, fail. I drew closer.
The mystery form turned out to be a black-crowned night-heron. And a lifer for me.
I stood off the path and stared for several minutes, appreciating this fortuitous happenstance. An older couple nearby shared a park bench swing, swaying toward and away from the river, conversing loudly and observing no social distancing as far as I could tell. Best not to creep them out with this impromptu silent vigil, I reasoned, and extracted my cellular from my crossbody. A phone call is as good of an excuse as any to stand very still in one place without having to explain yourself to bystanders.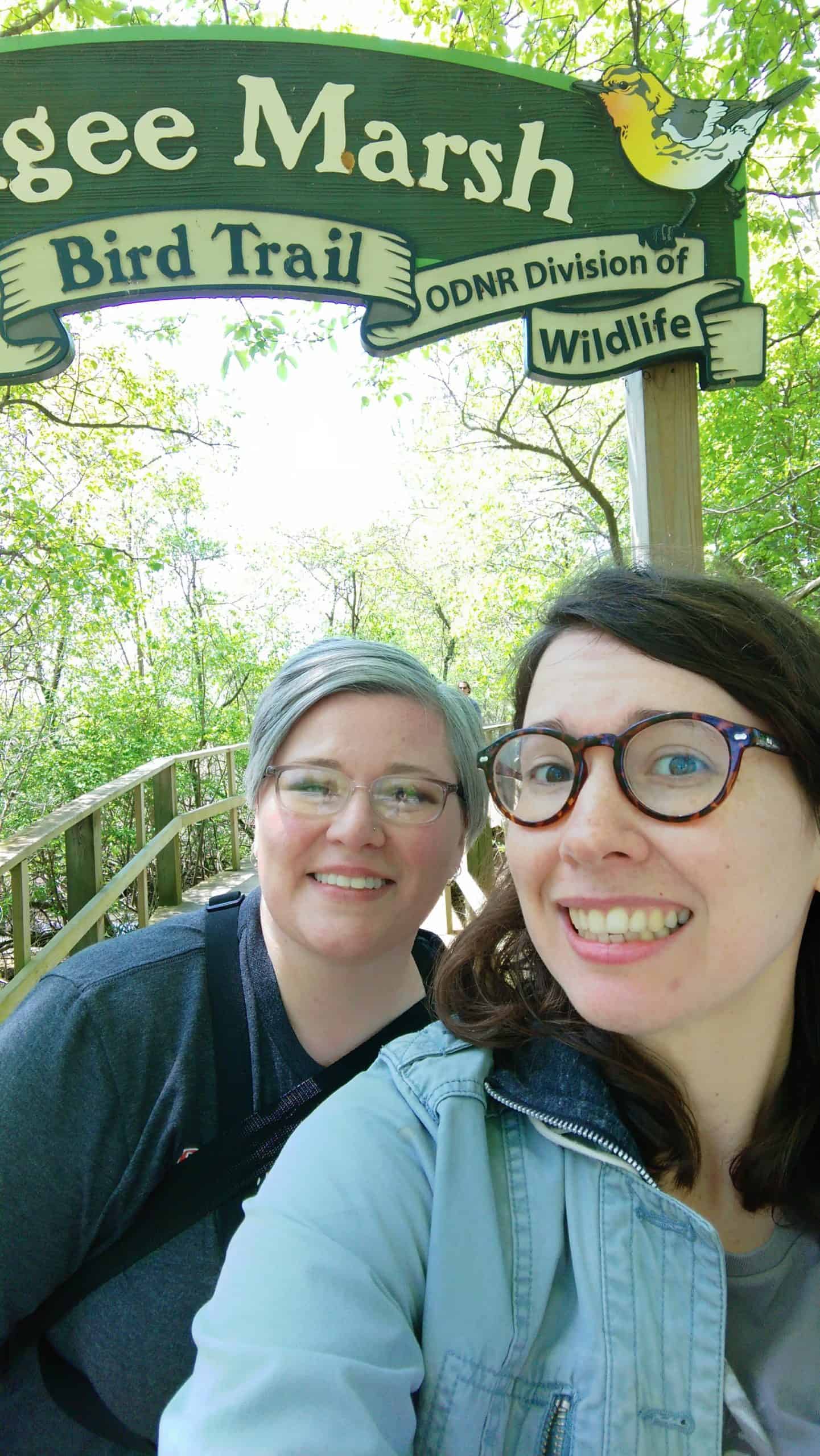 Angela graciously picked up my unsolicited Sunday afternoon call. We'd had a few phone exchanges over the past week, working out the nuances and challenges of shifting operations out of BWD headquarters and into our respective homes. I hoped she wasn't expecting news of another technical difficulty or an e-commerce gripe this time.
Indeed, this call in itself was a phenomenon of the COVID-19 lockdown. As an ungregarious millennial whose entire life (nearly, unfortunately) depends upon WiFi, I neither make nor answer an old-fashioned phone call unless it involves an older relative. Or sometimes an office or service department I'd saved the number for when I first began thinking about scheduling an appointment but suspected the contact form of the business's website to be under-attended. But this time, I was actually lonely after a week home alone. I craved more nondigital human connection, even in the intangible form of a more-than-work friend's voice. So thank goodness she answered.
I relayed what I was seeing and explained that I called her because I love wading birds best of all bird groups, and it was with her that I have seen the most waders in my life. There was the green heron spotted at Magee Marsh the first year we both attended the Biggest Week. Then another of the same in the wetlands behind DaVinci's Restaurant in Williamstown, West Virginia, witnessed while we were sobering up on the boardwalk after imbibing stiff Manhattans in memory of Elsa Ekenstierna Thompson. And all the gangly creatures of various sizes we saw when we weren't busy staffing the Redstart booth at the Florida Birding & Nature Festival: tricolored heron, little blue heron, a great blue heron in a wild preening posture, snowy egret, white ibis, limpkin, sandhill crane, two wood storks spiraling upward above a neighborhood outside Tampa. No roseate spoonbill then, though. Better luck next time.
In short, I'm grateful that I had a birding buddy to call upon to share some simple joy on a dreary afternoon in a grim stretch of days. If you have someone similar in your life, please let them know how much it means to you to have someone who likes to look at birds with you sometimes.
But now on to the first part of the title of this-here literary treasure. The black-crowned night-heron is 100% the most metal bird. It is not the bearded tit, with its slightly satanic facepaint (or is it more of a Lemmy 'stache?) plumage on a chubby frame. It is not the bearded vulture, which paints its body with blood-red mud and eats only the bones of dead animals. It is that footballish-sized wader I saw perched in a tree along the Muskingum River, hunched over, awkward and alone, with a body of unusual proportions covered in blue-black and white feathers like a well-worn band tee. Long plumes draped down its back like long greasy hair (or a couple of unfortunate rattails). And it was flashing those freaked-out red eyes, its steady gaze somehow promising mayhem. My adolescence spent in a lonely desert town among teenaged metalheads and goth kids screams black-crowned night-heron. It makes me appreciate having a birding bestie like Angela now, as a slightly-less-gawky adult, that much more.
The bird's name helps a lot, as well.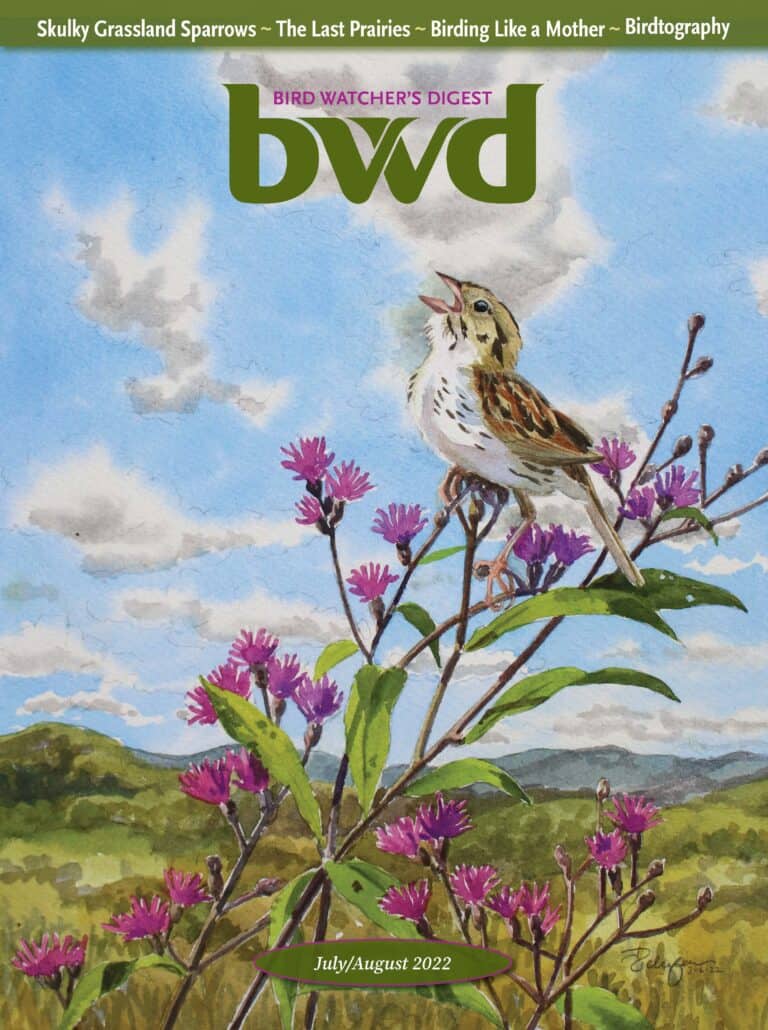 Looking to Subscribe?
Get 6 print issues of the magazine delivered to your door & free digital access
---
One Year Print Subscription: $26
(to US or Canada, includes digital access)
One Year Digital-only Subscription: $15