This past January, Editor Dawn Hewitt was invited to speak on the legacy of Bird Watcher's Digest at the Space Coast Birding and Wildlife Festival. Here is the third and final portion of her talk. You can find Part 1 here and Part 2 here.
---
Connections
The blogs, the podcasts, the magazines, the books, the website—those are all tangible components of our legacy, but underlying all that, perhaps the true foundation of Bird Watcher's Digest is connecting with birders, and connecting people with birds. BWD is entrenched in a network of birders—that BT3 and BWD have helped to create and build and grow and strengthen. And we're still doing that. For example, BWD has been a sponsor of the Space Coast Birding and Wildlife Festival for 20 years. Only the ABA has sponsored it longer. BT3 was a keynote at dozens of birding festivals, and BWD staff often attend festivals just so we can connect and reconnect with birders.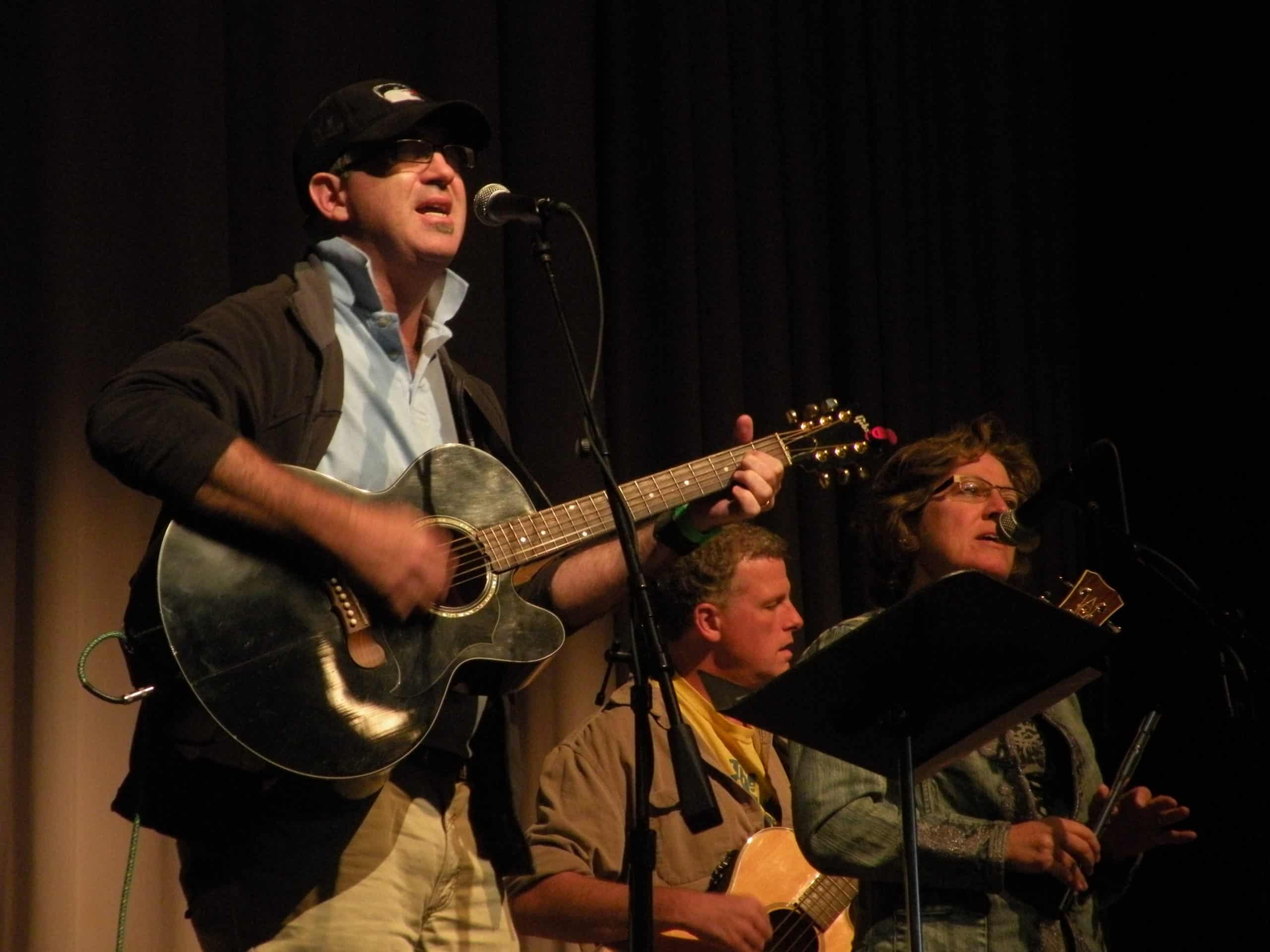 Sometime in the 1990s, BWD offered to host the Midwest Birding Symposium. That was an every-other-year festival that started a few years before BWD got involved, but we ran it for many years, attracting hundreds of birders for workshops with speakers including David Sibley, Al Batt, and many others, and it featured birding trips and a vending area for artists and optics manufacturers. They were so much fun, and the birding was great. It was an event that helped build the network of birders.
At the first MBS Bird Watcher's Digest hosted, BT3 and Elsa planned to perform some music on stage prior to the keynote address. Amazingly, some people who had previously planned the event hated the very idea of it. "This is not a music venue," they said. They advised BT3 against it. But Bill ignored them, and the audience responded enthusiastically to Bill and Elsa's duet. And so, Bill played guitar and sang at every opportunity, at every festival where he was a keynote presenter. He played on stage, or behind a booth, or on a couch. He was a prolific songwriter, and occasionally said he really should have been a professional musician and a recreational birder. Personally, I'm grateful birding was his vocation. The final MBS was in 2013, after some logistical challenges and financial shortfalls. It seemed the event had run out of steam.
Meanwhile, BT3 had started organizing Optics Expos in Columbus, Ohio, inviting leading optics manufacturers (and other birding gear vendors, artists, etc.) to demonstrate their wares to birders. It was a trial balloon to see if the United States could pull off an event similar to the British Birdwatching Fair. Something like this had never succeeded on these shores, but Bill was determined to give it a shot. Optics Expos proved promising in 2013 and 2014, so, in 2016, the American Birding Expo debuted in Columbus at the beautiful and deeply green Grange Insurance Audubon Center. Vendors from all over the world came to show their stuff. Talk about connecting birders! What fun it was, and it was adequately successful to repeat in 2016. In 2017, we moved the event to the Philadelphia Expo Center, and we repeated it there in 2018. Just as we were starting to plan the 2019 edition of the Expo, Bill was diagnosed with pancreatic cancer, and we knew we couldn't pull it off without his connections in the birding world and his efforts to encourage birders to attend. He was sorely disappointed that we didn't feel we could do it without him. But we just weren't confident that we could build the best Expo ever without him. And we didn't want to host an Expo that was in any way disappointing to the vendors or the attendees.
Reader Rendezvous
In the past six years—coterminous with my tenure at BWD—this company has become way, way more than a magazine. (Let me be clear: This was all BT3's doing, not mine. I kept the magazine assembly going, which helped free him to turn his loftier visions for the company into concrete plans.) In 2014, we undertook our first Reader Rendezvous: We invited our subscribers to go birding with us to Sax Zim Bog (northern Minnesota) in February. Columnist Al Batt was the special guest. BWD readers could hang out with the staff of BWD and one of our beloved columnists! The event sold out quickly, also boosted at the prospect of seeing northern hawk-owl, possibly a great gray owl, boreal chickadee, and other northern specialties. There was a blizzard that weekend, and Al Batt nearly didn't make it. What a wintry adventure it was!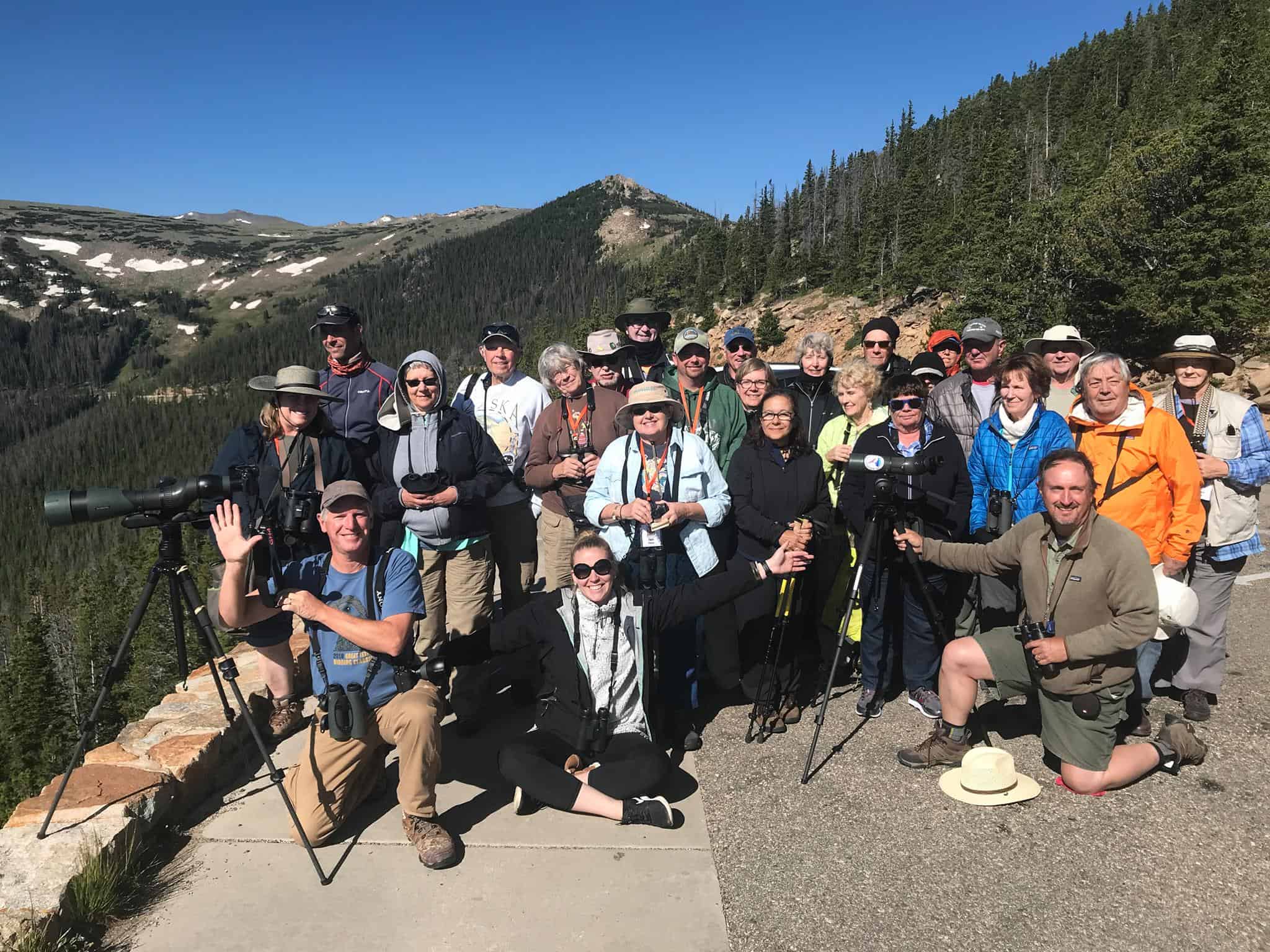 Since then, we've had dozens of Reader Rendezvous in which the staff and/or columnists of BWD visit birding hotspots and go birding with our friends. We are sincere in wanting our subscribers to feel like they are part of the BWD family. The Reader Rendezvous motto has become "Birding Is Better with Friends." And it is! We've had rendezvous in Ecuador, Panama, Costa Rica, Honduras, the Rio Grande Valley, South Africa, Portugal, the Texas Hill Country, Colorado, North Dakota, Maine, Delaware, Tybee Island, Titusville, and many others. Most of them sell out. Rendezvous often fill up with "repeat attenders" (plus a few first-timers). People who go on BWD Reader Rendezvous often can't wait to sign up for another because they're so much fun. The birding is great, and the camaraderie is unbeatable.
That's our legacy, too: making birding fun. Our hobby is inherently exciting, but Bill made it especially fun. Birding with Bill was so much fun. Consider the Life Bird Dance—it is my understanding that BT3 invented it: You put your hands in the air like you just don't care… And then you move your hips… He would have dozens of people in goofy poses after they saw, say, their life Swainson's warbler or Bachman's sparrow. Serious birding can be intense, but it can also be a hoot!
Redstart Birding
Another component of our legacy is Redstart Birding. BWD has long had a little nature shop. For a few years it was a brick-and-mortar store in our building, but our headquarters is in a small town—Marietta, Ohio. Most of our sales were via the telephone, and later, online. We sold books and booklets, and vetted gear for birding, and we sold a few binoculars. But in February 2017, soon after Eagle Optics closed, we opened Redstart Birding, an online store specializing in birding optics. This was Bill's vision, along with Ben Lizdas, former store manager for Eagle Optics, whom we hired to manage our new store. Redstart went gangbusters—and honestly, it is somewhat responsible for BWD's continued existence. It is challenging to make money with nothing more than a print publication or two. Bill realized that long ago, so enterprising visionary that he was, we have lots of irons in the fire. Redstart Birding continues to do well. We'd love to sell you a binocular or a scope, or an insect-shield scarf, other carefully vetted birding gear, or books and booklets. Even if you're just browsing, we're experts in optics for birders, and we'd love to help you find the best binocular for you, and within your price range.
A New Era for BWD
We have no plans to stop publishing our wonderful magazine, even though Bill Thompson, III, has left us. His dad, Bill Thompson, Jr., who co-founded the magazine, died in 2011, and, as I mentioned earlier, Elsa Thompson, also co-founder, died in a house fire exactly two months after BT3 succumbed to pancreatic cancer. Andy and Laura left BWD to follow their own passions, so there are no more Thompsons at Bird Watcher's Digest. That era has passed. But the Thompson family legacy, the legacy of Bill Thompson, III, continues, and I have an active role in keeping it alive and thriving. What an honor!
BT3's life partner, Wendy Clark, is now the president, publisher, and director of BWD and its associated enterprises, and she's proving to be a strong, determined, and wise leader, as Bill was. He would be honored and proud of her hard work.
And maybe the most important component of our legacy is to promote awareness and enjoyment of wild birds and their habitat. When Bill was dying, he asked that memorial contributions go to encourage young birders. And so, the Bill Thompson, III, Young Birders Fund was established as a scholarship endowment benefitting the American Birding Association, Leadership Fayette County (West Virginia—the same organization the New River Birding and Nature Festival benefits), Ohio Ornithological Society, Hog Island Audubon Camp, and Tucson Audubon's Bill Thompson, III, Youth Award. In its first year, it has raised tens of thousands of dollars for these worthy causes to promote youth birding. If you knew and loved Bill (or even if you didn't), a donation to this fund is the best way to honor him.
When BT3 spoke at birding festivals, he almost always closed his presentations by pulling out his guitar and singing a song or two. So, it seems appropriate that I close this long essay with some of Bill's music. This one was a true crowd-pleaser, even if it was a BT3 adaptation of a familiar, popular tune: "Mamas, Don't Let Your Babies Grow Up to Be Cowbirds."
Bill's most recent band was called the Rain Crows, and they released two wonderful CDs of original music. They practiced joyfully and with passion, even while Bill was dying. Here's a favorite song from the Rain Crows that Bill wrote: "A Dream of Flying Dream."
And finally, here's a song Bill wrote for the Champions of the Flyway, which is a competitive birding event in Israel that raises funds to educate people about the senselessness of recreational bird hunting, and trapping: "River of Birds in the Sky."
Remember, birding is better with friends. Let's go birding!