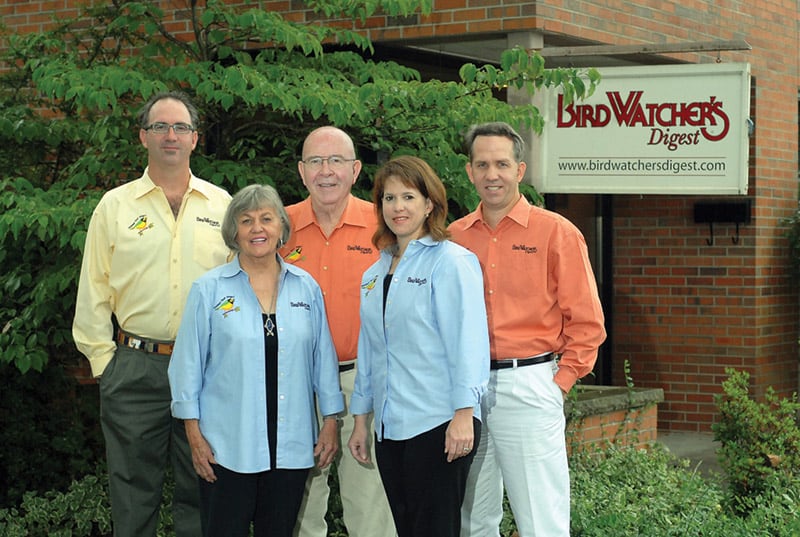 This past January, Editor Dawn Hewitt was invited to speak on the legacy of Bird Watcher's Digest at the Space Coast Birding and Wildlife Festival. Here is Part 1 of her talk—stay tuned for future installments continuing the story!
---
I am the editor of Bird Watcher's Digest, North America's oldest popular magazine for birders. I have held this position one year. It is a position I wish I didn't have. I would prefer to be managing editor for BWD, as I was for five and a half years. My beloved boss was well-known and well-respected in the birding community, a frequent and popular keynote presenter at birding festivals across the country and around the world, an A-list birder, and an amazing birding guide. His name was Bill Thompson, III. He died on March 25, 2019, and my size 7 1/2 feet are now in his size 13 shoes as editor for BWD. Bill was beloved among birders, including those who knew him and those who felt like they knew him from his books and articles, festival presentations, podcast, and blog. It was my deep privilege and honor, and a joy to work for and with him for five and a half years.
I suspect that many of you who are reading this have met Bill; maybe you birded with him, or heard him speak or sing, or otherwise felt like you knew him through Bird Watcher's Digest. On the very day Bill died from pancreatic cancer, American Birding Association President Jeff Gordon and ABA Board of Directors Vice-Chair Julie Davis presented him with the Roger Tory Peterson Award for Promoting the Cause of Birding. By all accounts, Bill contributed much to bird conservation and to the world of birding for many years while he held the position I now hold, and I will never be able to fill his shoes. But I am doing my best to keep his legacy alive, to honor his work, and to continue his mission of raising awareness of and respect for wild birds, and to promote their conservation.
Emotionally, 2019 was a horrible year for us. Bill died, and exactly two months later, his mother, Elsa Ekenstierna Thompson, who co-founded BWD, died in a house fire. But for years before his death, Bill was planning for the future of BWD, growing the company into "more than a magazine." Bill's and Elsa's deaths were emotional blows but the company had direction. Rest assured: Bird Watcher's Digest is on stable ground, and we are here to stay.
Let me start with a brief history of BWD, because where we came from is so important to where we are now, and where we are going. I'll repeat a few stories I've heard dozens of times from Bill and Elsa. I want to keep the history of BWD alive. That's part of our legacy, too.
Genesis
Bird Watcher's Digest's headquarters is in Marietta, Ohio, home of Marietta College, and that's where my boss's parents went to college. Elsa Ekenstierna and Bill Thompson, Jr., were both musicians, and they met when Elsa auditioned for Bill's jazz band. He was a pianist, and she a singer with a husky, sexy, alto voice. He proposed after their first date, and she accepted. That was in the mid-1950s. Elsa was originally from Bayonne, New Jersey, but Bill's family lived in Marietta Ohio. After graduating from college in the late 1950s, they made their home in Pella, Iowa, when Bill accepted a position at Central College. Elsa gave birth to two sons a year apart—in 1962 and 1963: my boss, Bill Thompson, III (BT3), and Andy Thompson. Bill swore that when he was a little boy—probably six years old or so—he saw a snowy owl one winter in a farm field near his home in rural Iowa. He was amazed, enthralled! It was his first memory of seeing a bird—any bird! And it was his spark bird! At age 6!! That's when BT3 realized that birds were really cool.
A few years later, Billy and Andy were joined by a baby sister, Laura. Their dad accepted a position within the Marietta College administration, so the family returned to Marietta. By then, the early '70s, most of Bill's and Elsa's college pals had moved away, and other than Bill's mother and aunt, they really didn't know too many people, or have many close friends. There was, however, a weekly column in the local newspaper, the Marietta Times, titled Birds I View, written by a local birder named Pat Murphy. Elsa enjoyed reading the column, and eventually decided to go on an outing with the Betsey Birders, the local birding club. She was instantly smitten with birds and birding, and made close friends with members of the group. Her enthusiasm for bird watching was infectious, and soon young Billy and Andy were going birding with the mostly middle-aged women in the club. The boys took to birding like fish to water. They learned bird songs faster than the adults in the group, and they were eager learners about all things bird.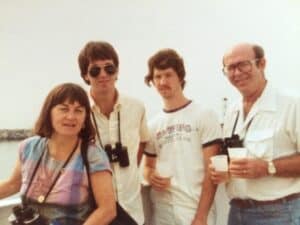 Like their parents, Billy and Andy were musicians and clearly had an ear and aptitude for sound. Music was a big part of the Thompson family, and live music was part of their frequent parties, and their daily lives. Billy and Andy both learned to play guitar, and then Bill learned bass guitar, as well. This, as you will see, is essential information.
Elsa, Billy, and Andy, went birding just about every weekend. It took Bill, Jr., a few years to get bitten by the birding bug, but he did eventually, when he spotted and correctly identified a sora on a family outing. That did it for him, and birding became a family affair.
So, my boss, BT3, became a birder as a pre-teen. By the mid-1970s, all three Thompson kids were in school, and Elsa was bored, tied to the kitchen. She was a fantastic cook, and toyed with the idea of opening a restaurant. She needed something to occupy her lonesome days. But after long hours of soul-searching and family discussions, they decided to try to fill an empty niche and create a popular magazine for bird watchers. To be accurate, Audubon Magazine was in existence at the time, serving as a communication platform for the nonprofit, membership-based National Audubon Society, and what is now the ABA's Birding magazine was an eight-fold newsletter for ABA members. There were other publications at the time that served membership-based birding organizations, and there were certainly ornithological journals and local bird-club newsletters, but in 1978, there were no popular birding magazines. None.
Publishing a magazine from scratch meant that the retirement fund and college savings accounts for all three kids had to be diverted into this venture. The family of five, including Laura, who was about 10 at the time, voted unanimously in favor of starting a magazine for bird watchers.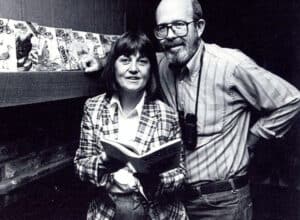 Elsa and Bill, Jr., along with Marietta College journalism professor William Sheppard, and Marietta Times newspaper columnist Pat Murphy hatched a plan to create a birding magazine, and in August 1978, Volume 1, Number 1 of Bird Watcher's Digest was produced in the Thompson family home on Warren Street, in Marietta, Ohio. Most of its content, like Reader's Digest, was reprinted from other sources. At the time, dozens of newspapers across the county published birding columns, and the Thompsons subscribed to an aggregation service—a clipping service—that would mail (yes, paper copies) of all birding columns, magazine articles, and newsletter stories about birds and bird watching. Every month, Elsa, BT2, Pat, and the first and longtime editor of Bird Watcher's Digest, Mary Beacom Bowers, pored over all those stories, picking the best ones for reprinting in BWD.
Printed on the cover of Volume 1, Number 1, of BWD is a price of $1.50, but the Thompsons printed and mailed 34,000 copies of this debut issue for free, including to every subscriber of the Marietta Times newspaper, to birding columnists and bird clubs across the country, following leads and links, and recommendations. A pull-out subscription card in the back of the first issue offered subscriptions for $7 per year (for six issues).
That a magazine with a global distribution was being produced in Marietta was big news, locally. Bill Thompson, III, a high-schooler and still an avid birder, recalls being teased for his family's new venture. Marietta High School had no air conditioning. (It still doesn't.) Bill told the story of sitting in class one warm, early spring day when the classroom's windows were open. He was distracted by the song of a familiar bird—a sign of spring—and his teacher noticed him perk up and look outside. "Mr. Thompson," said the teacher condescendingly, "Is that a bird you hear out there?" Bill said it was. "Well, what kind of bird, Mr. Thompson? Share your bird knowledge with the rest of us." Bill said he thought to himself, "Why, why, why does it have to be a tufted titmouse? Should I lie, and pretend it's something else?" "It's a tufted titmouse," he mumbled softly. "What's that?" the teacher persisted. "It's a tufted titmouse," Bill nearly shouted. The class erupted in laughter. "A tufted TITmouse?" repeated the teacher. "Well, Mr. Thompson, tell me: Have you ever seen one of these tufted TITmouses? Or maybe a pair of them?" I can only imagine how red Bill turned as a 16-year-old, but 40-some years later, it's still a fun story.
Two hundred fifty-seven issues later, we're still here. BWD operated in the Thompson family house for four years, and eventually rented and moved into the second floor of an office building a few miles away. Eventually, they bought that building and took over every room, including installing a mainframe computer to handle the subscriber database, a machine that filled what is now our controller's office. It took a crane, through the window, to accomplish that!
BT3 Returns to His Roots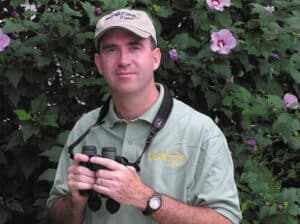 So, off Bill, then Andy, and later, Laura went to college, grateful for scholarships and jobs. Bill's first real job out of college was at a public relations firm in New York City. Even though far from his family, he kept on birding, and recalled birding in Central Park, and nearly getting mugged. The perpetrator approached him from behind and demanded Bill's wallet. He reached into his pocket with his left hand as he turned toward the thug, and with his right hand, hit him in the side of the head with his binoculars. He knocked the guy to the ground, and then took off running. That incident did not deter him from birding in Central Park.
In the September/October 1985 issue, the words of Bill Thompson, III, debuted in Bird Watcher's Digest in a story titled "A Birding Tour of Israel." At the time, 23-year-old Bill was working for the PR firm in New York City, but some of the birders he met on that Israel trip remained close friends for life.
In honor of the 10th anniversary issue of BWD, the September/October 1988 issue, BT3 wrote his second article in the magazine, titled "A Bird Watcher's Decade." He asked some of the luminaries of birding at the time one question: "What has been the most significant or important development in bird watching during the last ten years?" Roger Tory Peterson, Donald and Lilian Stokes, Pete Dunne, and ornithologist Chandler Robbins, among others, provided answers. By then, BT3 himself was on his way to becoming a luminary in the world of birding.
And on the masthead of that issue, Bill Thompson, III, was listed as an editorial associate. It was his toe in the door of joining the family business. In the May/June 1990 issue, Bill Thompson, III, is listed as managing editor, working under Mary Beacom Bowers, who had served as editor since the second issue. With Mary's retirement announcement in the March/April 1995 issue, BT3 became editor.
In the early 1990s, Andy Thompson came aboard as an advertising assistant, then director of advertising, then as vice president for advertising and marketing, and in the early 2000s, his parents anointed him as publisher. Eventually, Laura Thompson became circulation director, so all five members of the Thompson family have had some role in the company and in the magazine, but really, Elsa Thompson was the originator and matriarch of the magazine. For the past 25 years, Bill Thompson, III, has been the heart and soul, the conductor, and the visionary. I never met Bill Thompson, Jr. He died two years before I was hired. But I knew four members of the Thompson family, and I know that they were brilliant, creative, driven, focused people. It was in their genes.
---