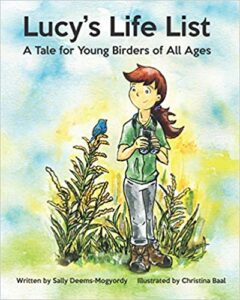 Earlier this year, I reviewed for Bird Watcher's Digest a sweet children's book written by Sally Deems-Mogyordy and illustrated by our November/December cover artist, Christina Baal. Some 2020 hiccups pushed out the publication of Lucy's Life List, and it recently became available for purchase—just in time for the holidays!
In case you missed it back in May, here is my review. My children continue to enjoy their copy, and I will certainly be purchasing additional copies for some of our young friends and family members this holiday season!
As the mother of four young children and a longtime admirer of Christina Baal's vibrant artwork, I was thrilled to hear that Baal was working on a children's book with author Sally Deems-Mogyordy, and couldn't wait to get my hands on a copy. Before diving into the story of Lucy's Life List, I flipped through the pages with my one-year-old, and together we oohed and ahhed at the bright spring scenes full of activity and colorful flora and, of course, an array of birds, and other wildlife as well.
Later, my seven-year-old (and most avid young birder) and I took turns reading aloud the story, moving more slowly through the pages to absorb the rhythmic crafting of words brought to life by the accompanying art.
Lucy's Life List stars a typical tween, tuned in more closely to her screens than to nature, until one day the blue flash of an indigo bunting captures her attention. With the help of her birder friend Nate, Lucy's eyes are opened to the variety of winged jewels in her yard and the magic of migration—and a young birder is born.
My birder momma heart swelled at how engaged my children were with this book, with my son's eagerness to identify all the birds, the thoughtful questions they asked as we admired the richly adorned pages. The author and artist have generously produced a free downloadable field guide featuring the birds in Lucy's Life List at lucyslifelist.com, and our family's copy is already lovingly dog-eared.
Lucy's Life List, by Sally Deems-Mogyordy, 2020, BelleFirm, 8×10 inches, 40 pages, paperback, $17.99. Available for purchase at Amazon.