In an alternate version of 2020, I would be in Rutland, England, this week, attending my first British Birdfair (not to mention my first visit to England!) with our publisher, Wendy Clark. Responsibly managing travel and public health safety during COVID-19 resulted in cancelation of the physical event, which normally draws about 24,000 attendees from all over the world.
The good news is, the show will go on, albeit virtually. Perhaps attending British Birdfair is on your bucket list, but traveling to England isn't a realistic option for you, even in non-pandemic times. Well, you are in luck! The virtual event will provide a combination of pre-recorded and live events at the Virtual Birdfair site from August 21–23, 9 a.m.–5 p.m. Pre-recorded events will be available on-demand on the Virtual Birdfair's site for three months. NOTE: if you choose to attend live events, be sure you convert your time to synchronize with local time in Rutland, UK (GMT +1). In my EST time zone, that means all live events will occur five hours ahead of my current time.  
 Along with pre-recorded and live events, auctions, and supporting conservation efforts, you can also visit exhibitor booths. Among the optics categories, Zeiss's Digital Nature Hub is a standout. Zeiss created this online platform for customers to enjoy all the usual perks of exhibition booth attendance: exclusive Zeiss talks, product information, an activity center for young birders; advice from birding experts; and customer support—all from the comfort of their homes. And, during British Birdfair, it'll be bustling with a variety of live activities!
A one-of-a-kind tool among optics vendors, Zeiss's 360° exhibition experience offers seven interactive touchpoints:
Welcome Area
Nature & Kids Corner
Service & Support
Viewing Area
Victory SF 32 Area
Lecture Theatre
Conversation Counter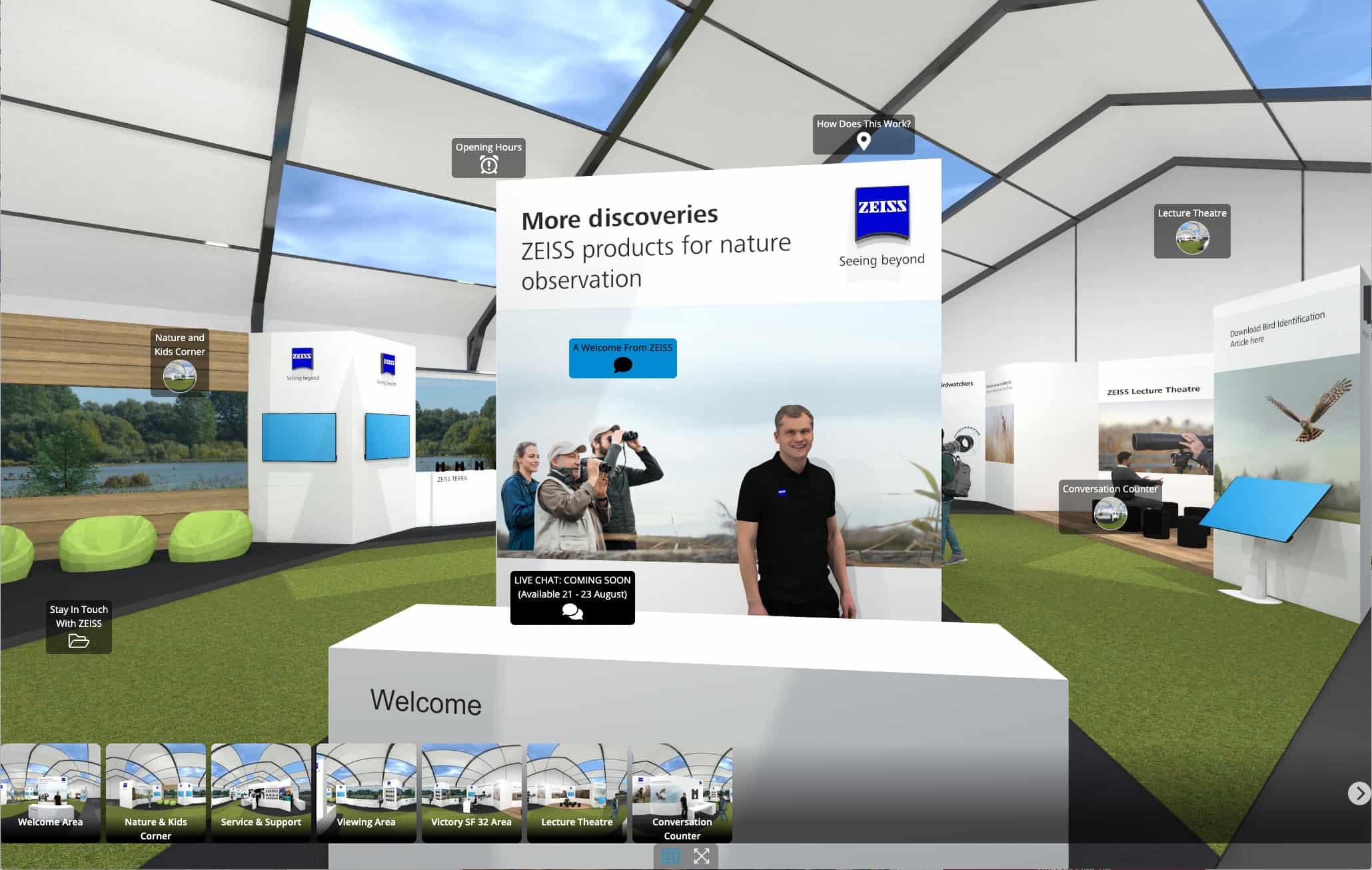 After my interview with Rich Moncrief at Carl Zeiss Sporting Optic about the highly anticipated launch of the Victory SF 32s a few months ago, my curiosity was further piqued. If, like me, you have specific questions about this new product, plan a visit to the Victory SF 32 area during festival hours (reminder: this is UK time!). Here you can engage in a live chat with a Zeiss representative to discuss your Victory SF 32 questions.
In addition to the aforementioned, Zeiss will also host exclusive live talks throughout the weekend, featuring Zeiss ambassadors and partners. Visit the Lecture Theatre to register for live sessions; there's even a helpful dropdown option to convert scheduled events to your local time.
For those who read this after the British Birdfair ends, you will still be able to utilize the hub, as it'll carry on as an online platform after Birdfair ends. Be sure to check it out!