Since discovering a Carolina wren roosting at night in an old robin's nest in the eaves of my porch last winter, I have been providing peanut pieces and mealworms in the feeder I have installed on my balcony railing. The wren has been a steady visitor since, along with the robin that reclaimed the wren's roost when spring rolled around—plus a reliable stream of titmice, white-breasted nuthatches, Carolina chickadees, eastern bluebirds, and a pair of northern mockingbirds.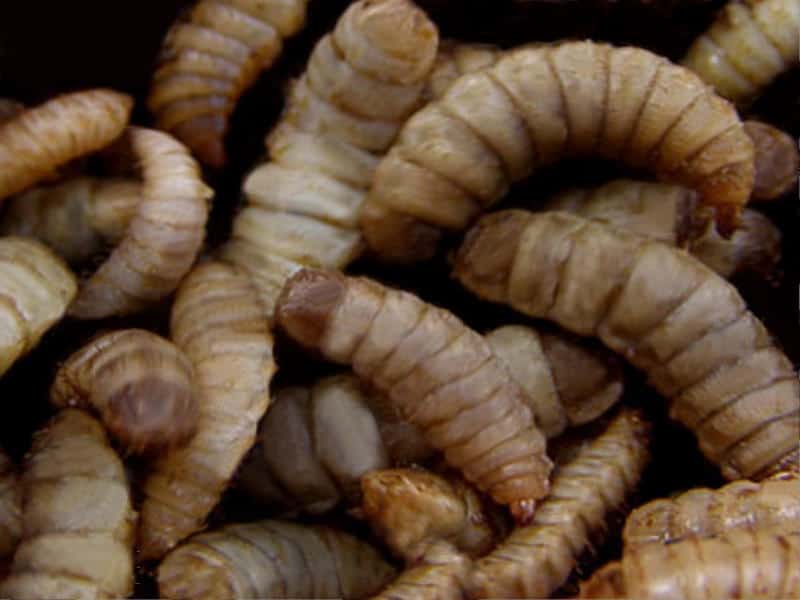 Along the way, I was introduced to EnterraGrubs, which are whole, dried black soldier fly larvae. In an interview on one of our BirdSense podcasts, I learned about how the grubs are nutritionally superior to mealworms, providing 50 times more calcium, and are higher in phosphorous (which is critical to the absorption of calcium) as well as protein. Like with humans, calcium helps keep bird bones strong, and it keeps the shells of their eggs thick. Enterra was formed in 2007 to find new, sustainable sources for animal feed by harnessing the nutritional power of insects, and to address the surge in food waste—the kind of mission conservation-minded consumers can appreciate.
Enterra graciously offered to send our staff a sample supply of the grubs, and I was happy to give them a try in my feeder. I started by putting both the grubs and the dried mealworms in the feeder together, to see if the birds had a preference for one over the other. Turns out they didn't even seem to take notice. They zipped in, grabbed a billful, and zipped back out. By day's end, the feeder was empty as per usual. Since using up my mealworm supply, I have consistently been using the Enterra grubs only, and my feeder continues to be emptied daily.
While the grubs are not currently sold at my local Wild Birds Unlimited, where I purchase my bird-feeding supplies, I don't mind making an exception and purchasing the grubs elsewhere instead. I think of it the same way I do coffee—yes, it's more convenient to grab my coffee at the grocery store, but I'd rather put a teeny bit more effort in and purchase my coffee online to ensure I am obtaining bird-friendly coffee. Knowing that I'm doing right by the birds is more satisfying, and I feel good supporting small businesses who share my environmental values.
To purchase your own grubs, Enterra suggests simply googling "Grubs for bird feed" or a variation of that to find a supplier near you. You can also contact Enterra and they will be happy to direct you to local livestock feed stores or farm supply companies. They caution folks to make sure they are purchasing the North American-produced grubs, as they will have stricter regulatory and quality control.
To learn more about Enterra and their sustainable practices and products, visit www.enterra.com/wild-bird. And check out our BirdSense podcast interviewing Enterra's chief technology office Andrew Vickerson to learn even more, and also hear from avid birder Tom Goldsborough, who recently conducted a survey of his backyard feeders to determine whether songbirds preferred black soldier fly larvae over mealworms. (Spoiler alert: The black soldier flies prevail!)

Looking to Subscribe?
Get 6 print issues of the magazine delivered to your door
& free digital access
One Year Print Subscription: $26
(to US or Canada, includes digital access)
One Year Digital-only Subscription: $15
Two Year Print Subscription: $48
(to US or Canada, includes digital access)