No beaches required.
In the late 1770s, renowned naturalist William Bartram recorded his awe-struck impressions of this biologically and geologically significant area in the northern center of the Florida peninsula, calling it the "great Alachua Savannah." As late as the 1880s, this prairie was a lake deep enough for steamboat passage. In the 1970s it became one of only 599 designated National Natural Landmarks in the country. All these events followed 12,000 years of human settlement in this now freshwater marsh.
Paynes Prairie Preserve State Park is 21,500 acres encompassing 20 distinct biological communities that support more than 270 bird species (85 documented nesting species), bison, alligators, and wild horses.
BIRD TRAILS
Paynes Prairie Preserve State Park offers 30 miles of hiking over eight distinct trails. The most popular for birding are:
La Chua Trail. This three-mile path crosses marsh and fields where you'll walk beside a canal, ponds, and lakes. It's known for quite a good number of winter sparrows, with November to February as the best months for these and more species. Rarities seen here in the past include greater white-fronted goose, American golden plover, American avocet, marbled godwit, and others. Insider tip: Stay on the trail. Alligators sun on the sides, while ticks and chiggers abound in the grasses.
Bolen Bluff Trail. This 2.6-mile, two-part trail travels mostly through the hardwoods and shady mesic hammocks. Watch for the yellow-billed cuckoo, blue-gray gnatcatcher, summer tanager, indigo bunting, orchard oriole, and others. Timing for an active fall migration is mid-August through mid-October. Confirmed rarities include black rail, short-eared owl, clay-colored sparrow, Philadelphia vireo, and others. Insider tip: Abide by the note above for insect avoidance.
There are four chances to rise above the landscape and scan the surroundings from observation platforms and knolls. For a rare look at a 360-degree vista of inland Florida, be sure to climb the 50-foot tower at the visitor center. While there, check with the notices for updated flooding information (which can close portions of trails).
Another popular multi-use trail that passes through the northern side of the park is the Gainesville-Hawthorne State Trail. It is 16 miles of paved passage following an old railbed with shade, overlooks, and connections to other more primitive trails.
The park is part of The Great Florida Birding and Wildlife Trail; and for all my fellow map nerds—Florida State Parks trail map HERE.
To bird from the water, human-powered and non-gasoline engines are allowed on the 300-acre Lake Wauburg.
BIRD LIST
Whooping cranes (possibly in winter)
Yellow rail
White-faced ibis
Golden eagle
Groove-billed ani
Vermilion flycatcher
Black-bellied whistling-duck
The Friends of Paynes Prairie group has compiled an impressive CHECKLIST for this area including 30-plus warbler species.
ECO-NOTE
Paynes Prairie Preserve State Park in central Florida is part of Audubon's IBA of the same name. Water integrity and non-native plants continue to challenge the ecosystem. High mortality rates for animals crossing US 441 have been reduced by a system of walls and culverts called The Paynes Prairie Ecopassage.
MUST-SEE
Marsh Marigolds. The whole Prairie basin landscape turns a golden yellow every October.
WHERE TO STAY
The campground is closed for renovations (with a tentative re-open date in 2019). There are many commercial hospitality options due to the park's proximity around I-75 and US 441. In fact, the Bolen Bluff Trailhead is actually on the highway.
MORE INFO
Paynes Prairie Preserve State Park, Florida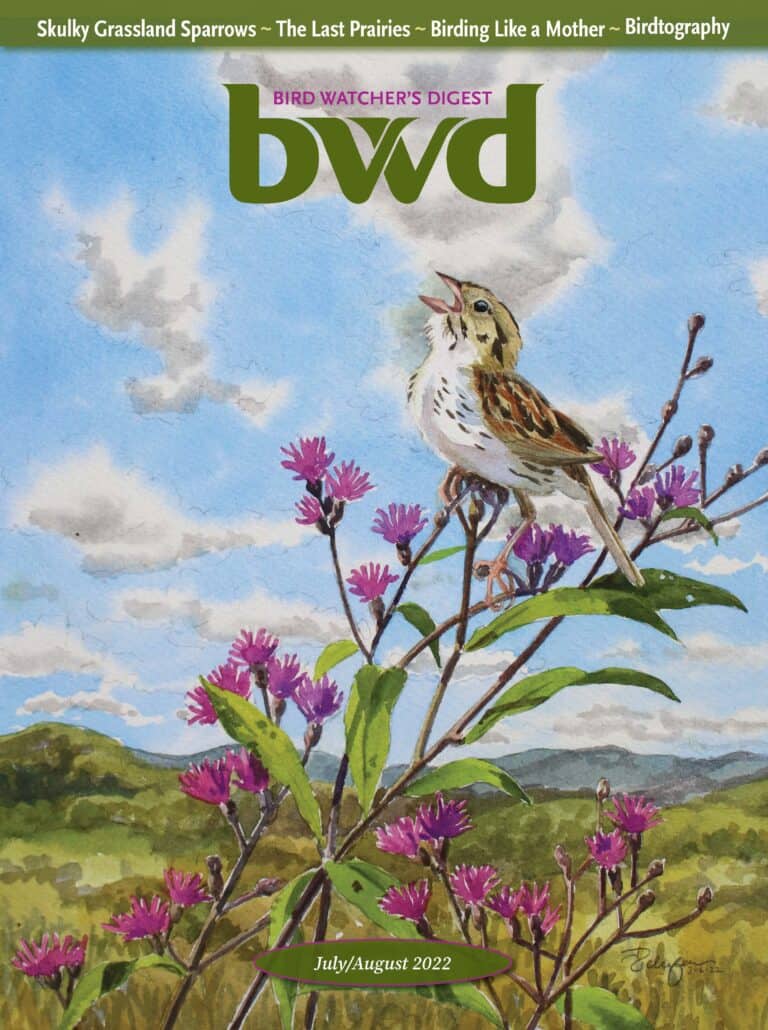 Looking to Subscribe?
Get 6 print issues of the magazine delivered to your door & free digital access
---
One Year Print Subscription: $26
(to US or Canada, includes digital access)
One Year Digital-only Subscription: $15