August is one of the quietest months of the year for birders. I have a handful of regular visitors to the yard—mainly jays, robins, cardinals, song sparrows, and downies, plus an eastern wood pewee somewhere out there calling day in and day out. Always a welcome sight (and sound), but not super exciting. Things will start picking up soon enough with fall migration, but in the meantime, I decided I needed a challenge. I decided this would be the summer I laid eyes on my long-time nemesis—not a bird, but a creature much like a bird: the hummingbird clearwing moth.
I did not even know such a thing existed until a few years ago when I was at a local metro park and another birder excitedly exclaimed, "Look! A hummingbird moth!" But by the time I hurried over, it was gone. I immediately googled it to see an image of what I had missed, and from that moment on, I've longed to see one.
So, a few weeks ago when I decided this was the summer it was going to happen, I posted on the Birding Central Ohio Facebook group a cry for help: "I really, really, really want to see a hummingbird moth! Can anyone suggest reliable locations to find them?" Several encouraging folks offered suggestions on spots to look and what flowers to look for, and even posted pictures of ones they had been lucky enough to encounter, sometimes in their own backyard! I was admittedly jealous of those photos, but double-downed on my determination.
The next day, I set out for one of the closest locations, Inniswood Metro Gardens, a lush and lovely botanical garden and nature preserve nestled in the suburbs. This park felt like a sure-bet with its 2,000+ plant varieties. Taking advantage of having extra sets of eyes to help me look, I shared pictures and video of the moth with my children, who are always up for a good scavenger hunt. We strolled around, eyes peeled, and we were rewarded—not with the moth unfortunately, but with countless other treasures: fields of flowers peaking in a rainbow of colors; a pair of calling barred owls in the woods behind us; croaking frogs and sunbathing turtles in a little pond. We were chased out sooner than we wanted by an impending storm, but it was hard to be disappointed in not finding our target given all the other sights and sounds we had soaked in.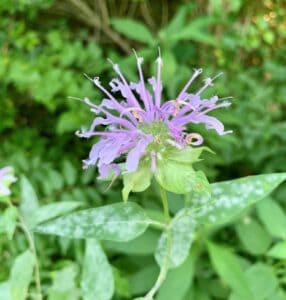 Our second attempt was a smaller neighborhood park, but one with a sizable patch of wildflowers, including monarda, a favorite of the hummingbird moth, I had been told. We found several bees feasting on the flowers, a number of miniscule monarch eggs and one teeny caterpillar on some milkweed leaves, even a cicada shell stuck tight to a tree branch—but alas, no hummingbird moth. Again, too many other discoveries to be that disappointed in striking out on the clearwing.
Life got a little busy and a couple weeks slipped by. Then last weekend I found myself in Hocking Hills, in southeastern Ohio—a corner of our predominately flat state that feels a world away with its rolling foothills and verdant valleys, caverns and waterfalls. To be honest, I had kind of forgotten about my quest, and I was distracted by a plethora of other moth species (including a gorgeous luna moth), as well as testing out a new pair of binoculars (review forthcoming), and simply just breathing in the Appalachian air (mask-free) and letting the madness of the world melt away a bit.
After watching a pair of young red-bellied woodpeckers chase each other around the tops of some pines, I lowered my bins, and my eyes fell on a large purple flowering plant in front of me, and this is exactly what happened in my brain:
Hmm, look at all those bees… I wonder if hummingbird moths like this flower… OMG A HUMMINGBIRD MOTH!!!!!!
There, at long last, as if I had conjured it up, was my clearwing—and it was more resplendent than I could have imagined. For a fascinating half hour or so, it flitted around this plant, tolerating my presence a mere couple feet away.
Not that I needed them, but a few times I focused my bins on the moth, and I was rewarded with incredible closeups of its long coiled tongue, called a proboscis, which it repeatedly unfurled to insert inside a flower. (Unlike a hummingbird, which laps fluids with its proboscis, the hummingbird moth uses its hollow tongue like a straw to suck in the nectar.) It was mesmerizing!
You know what they say about the best things happening when you least expect them, and stumbling upon my lifer hummingbird moth this way certainly made the experience extra special. It's still a goal for my kiddos to have their own clearwing sighting, and I hope it catches them by surprise and with as much delight as it did for me.