"Oh no! You're not really going there, are you?" That was the reaction I received from most of my friends when I told them I was going to Honduras on a birding tour. I have to admit, their reactions concerned me a little. This was my first trip to any Central American country and I really didn't know what to expect. But let me reassure you: If you have ever thought about traveling there but were hesitant because of concerns for your safety, this is my experience in the beautiful country of Honduras.
Bird Photography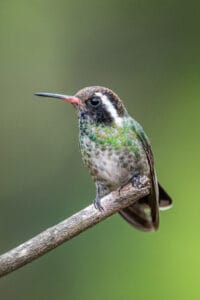 As a photographer, the main reason I visited Honduras was to photograph tropical birds. Since this was my first trip to Central America, almost all the birds we saw were lifers for me. However, photography in the rainforest was some of the most challenging I have ever experienced.
Due to the dense forest canopy, the lighting was low, and getting a clear shot of the birds as they bounced around in the trees took some patience (and luck). If you are hoping for less laborious bird photography opportunities while in Honduras, most of the lodges have bird feeders. These are great locations to get some sweet shots of the local birds, especially hummingbirds.
Birding
If you are looking for a destination to find birds to add to your life list, Honduras should be in your plans. It is home to more than 700 species of birds, including the Honduran emerald hummingbird, which is endemic (found nowhere else in the world). (More on that later!) In the six days I was there, our group saw more than 230 species of birds, and nearly all of them were lifers for me! My trip to Honduras was in June, so almost all the birds we saw were resident species, but if you visit there during the North American winter you will see even more species, since many North American migrants winter there.
Hummingbirds
If you enjoy hummingbirds—and who doesn't?—Honduras is a fabulous place to find them. Forty-five species are native to this country, which is the size of Virginia! One of my favorite experiences during my Honduras visit was touring the Reserva Privada El Consejero, en Yamaranguila, Intibucá, where the owner, Julio Cesar Bu, maintains hummingbird feeders. During my time in Honduras, I learned to identify the following species of hummingbirds: cinnamon, Rivoli's, azure-crowned, berylline, white-eared, and rufous-tailed hummingbirds, plus stripe-throated hermit, green-breasted mountain-gem, Honduran and white-bellied emeralds, and violet sabrewing.
Honduran Emerald
One of the reasons to tour an exotic destination like Honduras is to see birds you can't find anywhere else in the world. The Honduran emerald is endemic to Honduras. Alex Martinez Matute, of Santa Cruz de Yojoa (a site of interest in eBird) located only an hour and a half from the international airport in San Pedro Sula, led our group to this site to see this rarity. Alex is owner of El Rancho Hotel and Restaurant, so you can room there and enjoy good food as well as great birds.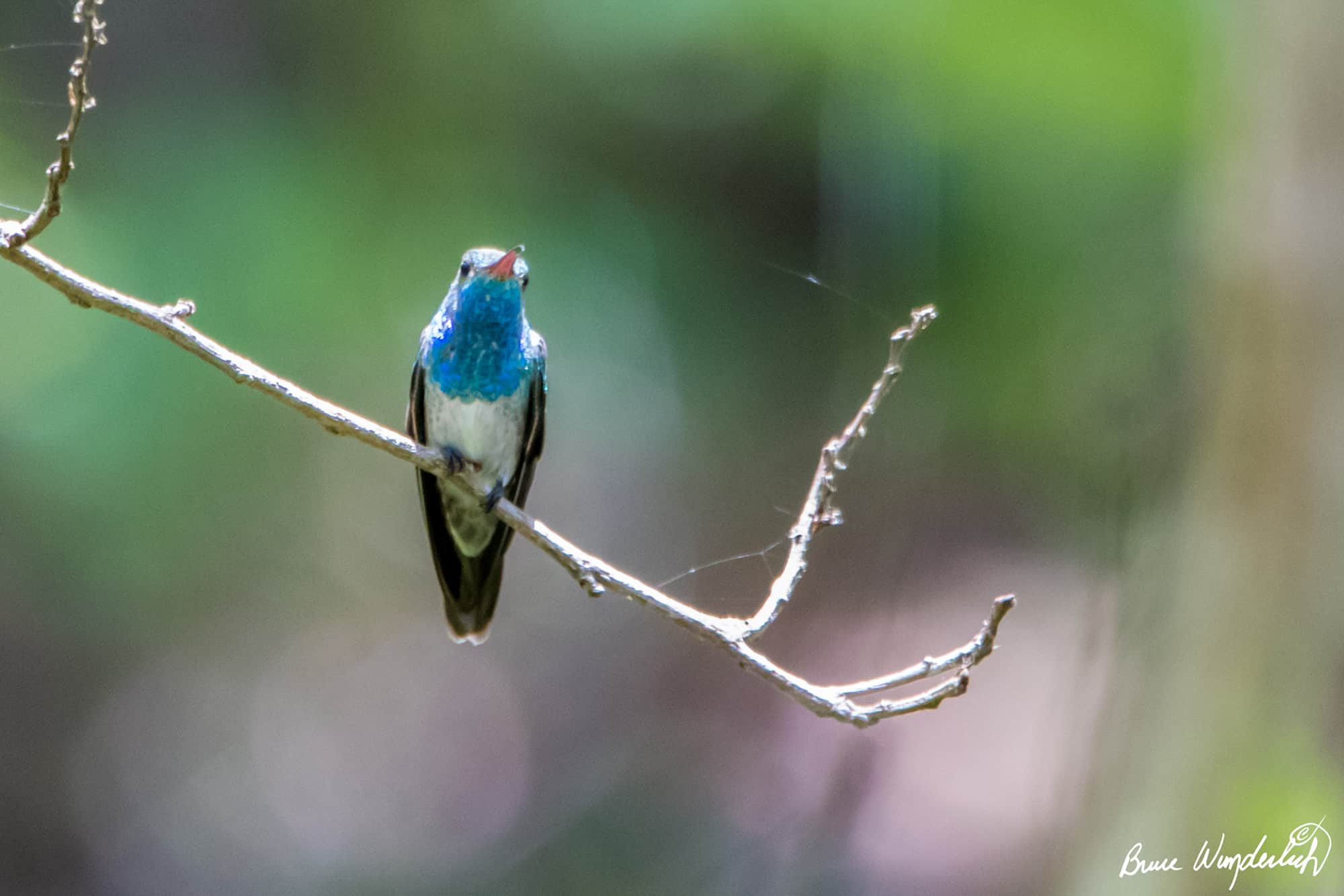 The Honduran emerald is an endangered species; its habitat disappearing because of deforestation. The people of Honduras use every tillable acre to grow crops to support their families. Unfortunately, this situation is harming the forested habitat of the Honduran emerald. Efforts to preserve these habitats, however, are under way.
Other wildlife
Not only did we see amazing birds while touring in Honduras, but other animals gave us a thrill. The highlight for me happened one afternoon on the Zamorano University property when most of the group decided to hike higher into the rainforest. I decided against the hike and stayed back at the preserve office area to photograph the spectacular flowers and garden landscapes.
A few of the local guides had remained behind, also. Suddenly one of the guides motioned to me and whispered, "Animal!" (She spoke very little English and I spoke even less Spanish.) Out from the trees ran a jaguarundi! I was able to capture a couple of images of it before it disappeared into the forest. Later, some of the guides told me that jaguarundis are so rarely seen that some of them have never seen one! We also saw iguanas in the wild and some coatimundi hanging around in the trees at Panacam Lodge.
Favorite Experience
On the fifth day of my trip we were driving back to the hotel for lunch after a great morning of birding on the trails on the grounds of Zamorano University, when suddenly our tour guide stopped the vehicle and said "Hear that? It's an owl!" Sure enough, an owl right outside my window! I took some photos of it through the van's window before slowly getting out of the vehicle, trying not to disturb the bird. Success! We all got some great photos of this ferruginous pygmy-owl!
Guide Guidance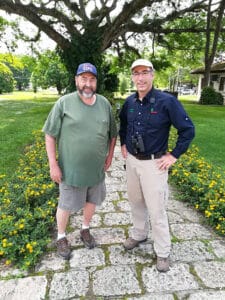 When planning a trip to Honduras, a must-do-first-step is to find a tour guide and let him or her help you plan your trip. In addition to the safety factor, you'll want to maximize your time to experience as many of the attractions and as much of the culture as possible.
A tour guide knows the area and where to find the birds we travel such a distance to see. My tour group had two amazing tour guides, Yobani Peraza from Xukpi Tours, and Oliver Komar, who is a professor at Zamorano University and co-author of the Peterson Field Guide to Birds of Northern Central America.
We were also aided by several local bird guides. Both Yobani and Oliver were so helpful and tried to make sure everyone in the group was able to view our target birds. These Honduran birding tour guides really know their subjects, and are able to locate and identify species by just hearing them! The guides who accompanied us were proud of their country and genuinely happy to show off their beautiful and unique birds as well as other attractions.
Are there dangerous places in Honduras? Yes, there are. But every country, including the United States, has places that are dangerous. If you are traveling with a tour company, you shouldn't have any problem avoiding such places. If you hire a tour guide service, I think you will find, as I did, that all the negative press Honduras receives as a destination is unwarranted.
Honduras is located about a thousand miles north of the equator, and the climate is hot and humid nearly year 'round. My suitcase was mostly full of shorts and T-shirts. Temperature-wise these were appropriate choices, but as I quickly realized, most Hondurans wear long pants and long-sleeved shirts to protect their skin from the harsh sun and the hungry mosquitoes.
Therefore, packing lightweight, long-sleeved shirts and long tropical trousers is definitely advisable. Sunscreen and bug spray are a must! On most days, comfortable hiking shoes is sufficient footwear, but comfortable, waterproof hiking boots is a good idea to take along. It rained almost every day I was there, so pack rain gear to be prepared for showers.
"Don't drink the water!" was another warning I heard from many people when told of my travel plans to Honduras. But from my experience, filtered water is in plentiful supply. As a precaution, we always asked to make sure the water was filtered, and requested drinks without ice.
Drinking plenty of water is a must to avoid dehydration, so take a reusable water bottle to refill to carry with you at all times. Most Hondurans drink coffee for the obvious reason that coffee is a major agricultural export, and in some locales it seems there is a coffee shop on every corner. I am not a coffee-drinker, but I did try a frappuccino while there and it was fabulous!
Two Thumbs Up
Was touring Honduras worthwhile? The wild birds and creatures were beautiful and exotic, subjects desirable to any camera-lugging tourist. The scenery was lush and picturesque, even if the weather was hot and humid.
Our tour experiences were planned and coordinated by knowledgeable and passionate professionals and friendly, hard-working locals. All were proud to showcase their Honduran countryside and communities. Yes, there are concerns to be addressed before you head out, but when you are planning your Central American birding trip, consider discovering and experiencing "the real Honduras."
Bruce's Gallery