Specialty birds of the northeastern Texas forests
Atlanta State Park, at 1,475 acres, sits in the most forested area of the state of Texas. Known as the "Pineywoods" to locals, this diverse ecoregion supports 353 bird species (57 percent of the state's total) with documented nesting for 132 of those species. Habitats of hardwood and pine forests, riparian woodlands, reservoirs, wetlands, grassland, and pastures offer birders easy access to woodland birds, raptors, waterfowl, and seabirds.
TRAILS
Five maintained trails (four rated easy) wander through the park boundaries offering forest and lakeside environments. This state park also lands within the Texarkana Loop, Prairie and Pineywoods East portion of the Great Texas Wildlife Trail system. Specifically, explore around Lake Wright Patman (site PPWE 109) to see a great number of the species listed below. Insider tip: Find the Elliot Bluff Wildlife Viewing Area observation platform. You should see/hear shrub species on the trail, waterfowl and wading birds while looking over the lake and marshlands, and raptors in the sky.
BIRD LIST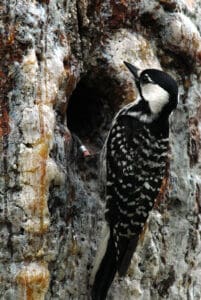 Be on the lookout for multiple species of loons, grebes, herons, waders, and ducks with a chance to see a roseate spoonbill. Eight hawk species, six owl species, merlin, kestrel, and eagles are in residence. Gull watchers will be delighted in winter; and six species of hummers arrive in the summer. Warblers and sparrows abound along with finches, buntings, orioles, and grosbeaks.
Download the Birds of Atlanta State Park seasonal checklist and the Birds of the Pineywoods of Eastern Texas Field Checklist.
ECO-NOTE
Pine trees dominate the area, sharing space with upland and bottomland hardwoods and a woody shrub and dogwood understory with exposed sandy tracts. The habitat status for this area is classified as critical/endangered due to fire suppression practices, pine plantations, and urban development. The Atlanta State Park is located within and surrounded by Audubon's Wright Patman Lake and White Oak Creek IBA.
MUST-SEE
Sunsets: Wright Patman Lake is 20,000+ acres with 170 miles of shoreline. Pack snacks and sit anywhere on the eastern shore to enjoy the colors of a Texas sunset over the water.
WHERE TO STAY
Atlanta State Park has four campsites with a total of 58 spots available. Each has water, picnic tables, and electricity; and 14 have sewer hook-ups.
MORE INFO